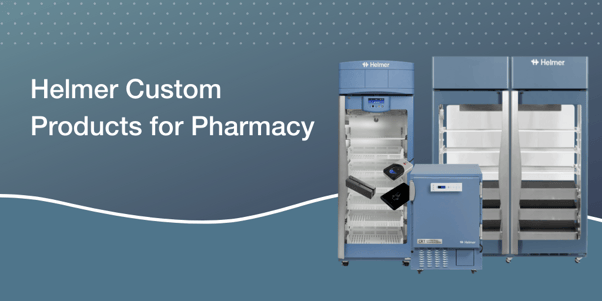 Helmer Custom Products Division combines our expertise with temperature-controlled storage and competencies in integrations, software, design, testing / validation, and manufacturing to evaluate and build custom solutions to meet the unique needs of our customers.
Our custom products engineers partner with end-users to understand temperature-controlled application and workflow to develop custom solutions through:
Product design
Software development
Branding and paint
Testing and validation
Service models
Integration interoperability
Through our commitment to industry leading technology and partnership with customers, our custom products division has introduced several unique products to meet the needs of our customers.
Ambient Room Temperature Pass Thru Cabinets with Interlock
Pass-thru cabinets allow access to critical products without requiring staff to enter and leave clean spaces. Ambient pass-thru cabinets used in these environments are typically limited in capacity and do not match the look and feel of the larger refrigerated pass-thru cabinets installed in similar areas.
Ambient pass-thru cabinets with interlock technology have been developed by Helmer Custom Products that allow products to be stored at normal room temperatures. The inclusion of i.Lock™ interlock technology allows door(s) on one side of the pass-thru cabinet to electronically lock when doors on the opposite side are opened, enhancing USP <797> cleanroom workflow and air quality control.
Controlled Room Temperature Cabinets
Room temperature medication storage is subject to FDA regulations to ensure products are stored according to labeling requirements. Storage conditions for pharmaceuticals at room temperature are typically 68-77ºF (20-25°C). Maintaining these temperature ranges can be a challenge, especially in locations where HVAC systems are not controlled by hospital pharmacy staff (e.g. HVAC not controlled on nights, weekends, etc).
Helmer Controlled Room Temperature Cabinets are designed for ambient medication storage in the pharmacy, patient care areas and/or inside cleanrooms within 68-77°F (20-25°C) as defined by USP. These cabinets help ensure sensitive and expensive medications and pharmaceuticals are maintained at manufacturer recommended temperatures, even when ambient room temperature is not controlled to help mitigate safety and regulatory risks.
Remote Access Control
Remote Access Control provides the opportunity to control integrated exterior door locks on Helmer equipment with your existing 3rd party device.
Limited solutions exist that allow a facility to use a third-party access system to manage access to temperature-controlled cold storage units. Helmer Scientific has developed a custom integration that allows third-party independent user validation (devices) to control the integrated door lock on a Helmer refrigerator (+4°) or freezer (-30° or -80°C), or on a Pro Line platelet incubator.
Other Blogs You Might Be Interested In...
The custom products listed above are just a few examples of successful collaborations with our customers. We are always interested in discussing additional opportunities and product ideas. For more information or to make a custom product inquiry, please use the link below.