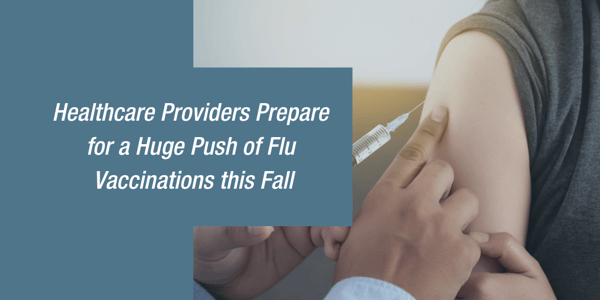 Whether you're a primary care physician, nurse, pharmacist, or other health care professional (HCP), you play a significant role in helping protect your patients against influenza. Experts predict a huge push for influenza vaccinations this fall to help curb the thousands of flu cases which may coincide with another influx of coronavirus cases.

Preparing for Influenza Season
The U.S. Centers for Disease Control and Prevention (CDC) reports that during the 2019-2020 flu season, there were between 39 and 56 million reported illnesses, 410,000-740,000 hospitalizations, and 24,000 – 62,000 deaths (CDC).
Dr. Benjamin Singer, a Northwestern Medicine pulmonologist who treats COVID-19 patients in the intensive care unit, expresses concern about the upcoming flu season.
"Even in non-pandemic years, the flu and other causes of pneumonia represent the eighth-leading cause of death in the United States, and respiratory viruses are the most commonly identified pathogens among hospitalized patients with community-acquired pneumonia," Singer said (Science).
"A Reuters/Ipsos poll of 4,428 adults conducted May 13-19 found that about 60 percent of U.S. adults plan to get the flu vaccine in the fall. Typically, fewer than half of Americans get vaccinated. CDC recommends the vaccine for everyone over age 6 months (Reuters)."
Flu Vaccinations are Critical
Influenza vaccinations will play a huge role in helping curb hospitalizations during the 2020-2021 flu season, and healthcare providers are already gearing up to receive millions of doses across the United States.
'"We're in for a double-barreled assault this fall and winter with flu and COVID. Flu is the one you can do something about," Vanderbilt University Medical Center infectious disease expert Dr. William Schaffner said (Reuters)."'
Vaccine Providers Are Getting Creative
The healthcare community needs to get creative when it comes to who, how and where these flu vaccinations will be delivered. Many patients are scared to see their normal provider because they fear the coronavirus.
A survey by CVS health showed that 65% of adults plan to get a flu vaccination this fall, up from 34%. These same respondents said they were more likely to go to a pharmacy than a physician's office or other form of healthcare provider (Reuters).
Moreover, "Rite Aid Chief Pharmacy Officer Jocelyn Konrad said the pharmacy chain, which provided about 2.6 million flu shots last year, upped its order by 40 percent this year (Reuters)."
Some doctors' offices are even looking into drive-up vaccinations clinics (following COVID-19 diagnostic testing workflows), community centers, parks, and other nonconventional areas for care which are easily accessible by the general public.
Preparing
to
Receive Influenza Vaccine
Influenza vaccination will play a huge role in the battle against COVID-19 come fall. Although flu vaccines are not 100% effective, increased vaccinations rates will help reduce the number of hospitalizations and severe cases of the flu.
Vaccine Storage
Make sure you have enough room in your refrigerator(s) to receive your initial flu vaccine shipment. If you need additional storage, be sure to order equipment prior to arrival.

Ensure that all expired flu vaccine from previous seasons has been removed from the unit

Review your temperature logs and make sure your unit

is capable of maintaining

safe temperatures for vaccine storage. The unit should be set at 5° C and should not expose vaccines to temperatures below 2° C or above 8 C°.
Vaccine Shipments
Be prepared to receive multiple shipments.

Ensure that your facilities hours are

up-to-date

Alert office staff or staff responsible for receiving vaccines to ensure they are processed in a timely manner.
Training & Policies
Ensure that all individuals who will be storing or handling vaccines are thoroughly trained

Verify vaccine storage and temperature monitoring training has been completed by all new employees

Review VFC vaccine eligibility and tracking procedures

Train staff on how to prevent vaccine waste

Prepare the office for flu clinics
Other Blogs You Might Be Interested In...
Helmer Scientific is proud to support the safe storage and handling of temperature sensitive vaccines. We provide the highest quality and reliability when it comes to vaccine refrigerators and freezers. To learn more about our vaccine storage equipment, visit the link below.
Sources
https://www.cdc.gov/flu/professionals/vaccination/prepare-practice-tools.htm
https://www.sciencedaily.com/releases/2020/05/200529150651.htm
https://www.reuters.com/article/us-health-coronavirus-flu-focus-idUSKBN2321F0