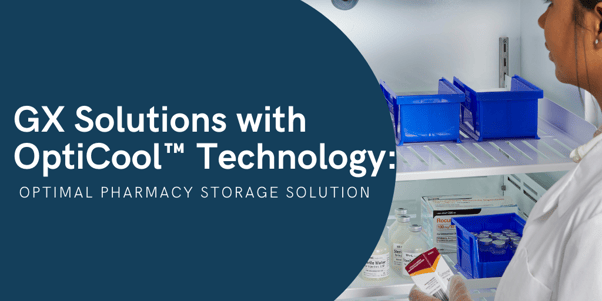 Proper cold storage of medications and vaccines is critical in the healthcare environment, and often can be the difference between viable, effective products, and ineffective or wasted product. GX Solutions from Helmer Scientific is the first line of medical-grade refrigerators and freezers to offer optimized control in temperature, noise, and energy management. Powered by OptiCool™ technology, GX Solutions pairs variable capacity compressor (VCC) technology and natural hydrocarbon (HC) refrigerant to achieve performance characteristics that offer a superior storage environment, save on energy usage, and support environmental sustainability.
Only professional medical-grade pharmacy refrigerators and freezers deliver optimized control in three important areas:
Temperature management to safeguard stored products and maintain efficacy, maintaining acceptable temperature during normal operation and auto-defrost cycles
Noise management to provide a more comfortable environment for patients and a more productive workplace for staff
Energy management to reduce operating costs and support sustainability initiatives
GX Solutions are recognized by ENERGY STAR® and can help reduce a healthcare facility's footprint and support sustainability initiatives. All GX Solutions, including upright and undercounter models, meet certification requirements for the High-Performance Laboratory Refrigerator category for blood bank, laboratory, and pharmacy refrigerators, including:
35-65% more energy efficient than conventional models, saving 825 kWh/year
Decreased carbon footprint: natural hydrocarbon (HC) refrigerant dramatically decreases global warming potential (GWP)
Significant New Alternatives Policy (SNAP) and EU F-Gas compliant natural refrigerants
Reduced heat output, which limits HVAC system impact
OTHER BLOGS YOU MIGHT BE INTERESTED IN...
By choosing a medical-grade cold storage unit, you can prevent costly temperature excursions, reduce waste, and save time and money. Learn more about GX Solutions and the benefits of medical-grade cold storage.