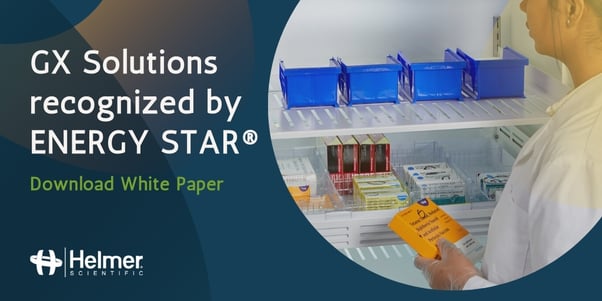 GX Solutions professional medical-grade refrigerators and freezers from Helmer Scientific utilize innovative OptiCool™ technology, to help minimize energy use while also achieving optimal temperature management. The use of OptiCool™ technology in our products has been recognized by the U.S. Environmental Protection Agency (EPA) as meeting ENERGY STAR® energy efficiency requirements for high performance laboratory refrigerators. Recently, our new GX Undercounter Freezers were recognized and our new GX Upright Freezers have been submitted for certification by ENERGY STAR®.
The ENERGY STAR® program helps safeguard the environment by promoting superior energy efficiency across a broad range of products and has been expanded to testing and recognition of cold storage devices used for clinical applications. This equipment category is broadly used across healthcare and research facilities to store critical blood products, patient samples, reagents, medications and vaccines.
Conventional cooling technology has been used in medical-grade refrigeration for many years. These systems provide a temperature-controlled environment but tend to consume more energy than newer approaches. Converting from conventional units to GX Solutions reduces energy usage. This, in turn, helps facilities reduce their utility bills, lowering the cost of ownership.
In addition to cutting back on energy use, these systems can reduce heat output into a facility's rooms and benefit the environment by decreasing global warming potential. These advantages help support organizational sustainability initiatives.
GX SOLUTIONS HELP REDUCE A HEALTHCARE FACILITY'S FOOTPRINT AND SUPPORT SUSTAINABILITY
35-65% more energy efficient than conventional models- saving 825 kWh/year
Decreased carbon footprint - natural hydrocarbon (HC) refrigerant dramatically decreases global warming potential (GWP)
Significant New Alternatives Policy (SNAP) and EU F-Gas compliant natural refrigerants
Reduced heat output which limits HVAC system impact
Please visit www.helmerinc.com/energy-star for the complete list of Helmer Scientific ENERGY STAR® recognized medical-grade refrigerators and freezers. This list will be updated by Helmer Scientific as additional products are tested and certified.
OTHER BLOGS YOU MIGHT BE INTERESTED IN...
For more information on our OptiCool™ technology and GX Solutions, download our white paper: Energy Usage-GX Solutions with the OptiCool™ System.