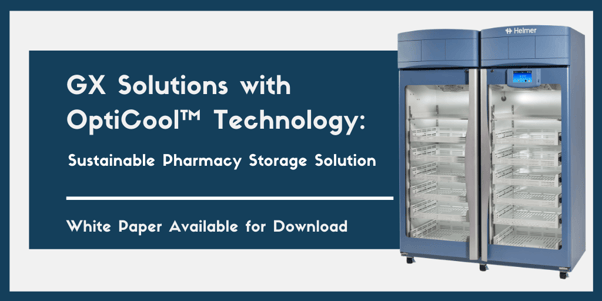 Cold storage for medications and vaccines have never been more important. Ensuring equipment meets performance requirements for these products is critical to ensure efficacy, safety, and compliance. In addition, energy efficiency and sustainability should also be considered. Helmer Scientifics's GX Solutions line of pharmacy refrigerators are the first professional, medical-grade refrigerators designed to provide optimal temperature uniformity, recovery, and stability.
Temperature Uniformity: All points in the cabinet have consistent temperatures
Temperature Recovery: Cabinet quickly returns to set point after door openings
Temperature Stability: Temperatures remain consistent over time
Powered by OptiCool™ Technology, this cooling system pairs Variable Capacity Compressors (VCC) with natural hydrocarbon (HC) refrigerants to enable reduction in noise, energy efficiency, and support global environment sustainability initiatives by eliminating the use of refrigerants with high Global Warming Potential (GWP).
GX Solutions help reduce a healthcare facility's footprint and support sustainability
50-65% more energy efficient than conventional models- saving 825 kWh/year
Decreased carbon footprint - natural hydrocarbon (HC) refrigerant dramatically decreases global warming potential (GWP)
R600a, a Significant New Alternatives Policy (SNAP) and EU F-Gas compliant natural refrigerant
Reduced heat output which limits HVAC system impact
OTHER BLOGS YOU MIGHT BE INTERESTED IN...
In honor of National Pharmacists Day, we at Helmer Scientific would like to take this opportunity to thank all pharmacists and vaccine providers for all that they do on the frontlines of healthcare. We recognize the challenges they face day in and day out due to COVID-19 and we extend our sincere appreciation.
To learn more about how GX Solutions can help support sustainability initiatives, download our latest white paper: "Energy Usage- GX solutions with the OptiCool System." Click the button below to learn more.