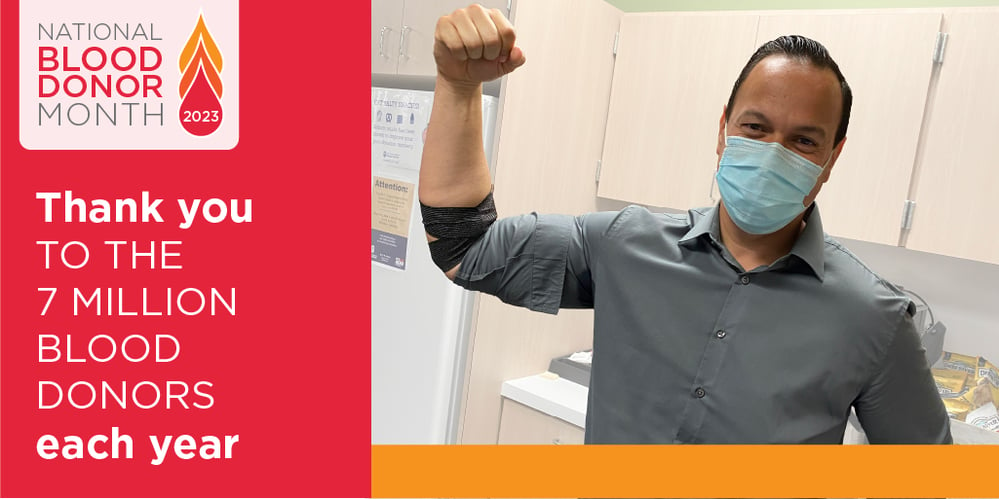 Every 2 seconds, someone in the United States needs blood for surgeries, cancer treatments, childbirth, anemia, serious injuries, blood disorders, and more. Giving blood is crucial to saving lives and making sure blood is available for patients when it's needed.
Started in 1970 by presidential proclamation, January is National Blood Donor Month. The month of January was selected because it has consistently been one of the most challenging times for blood centers to collect enough blood to meet demand. Donations begin to drop during the busy holiday season. Some blood drives get cancelled due to winter weather, and seasonal illnesses such as colds and flu have a negative impact on collections.
The U.S. Department of Health and Human Services (HHS) and National Heart, Lung and Blood Institute (NHLBI) recently released new materials to highlight the continuous need for blood and encourage blood donation. The Giving = Living campaign was created to increase awareness of the importance of donating blood and plasma and to encourage individuals to donate regularly.
The Giving = Living campaign includes a video series to thank current donors and encourage others to donate. The videos, which are available in English and Spanish, tell the stories of patients whose lives were saved by blood donation. In addition, a handout called "Donate Blood. Save a Life," shares information on the importance of blood donation.
There is no substitute for blood and donations are the only way to supply blood for those in need. Helmer Scientific has been hosting blood drives for more than 10 years and has a large core group who routinely donate. Supporting the blood community is important to us, and hosting regular blood drives is just one way we can express our gratitude for their constant efforts to ensure the safety and availability of the blood supply.
OTHER BLOGS YOU MAY BE INTERESTED IN...
During National Blood Donor Month, and throughout the year, we encourage everyone to support their local blood center by scheduling an appointment that will help save lives.