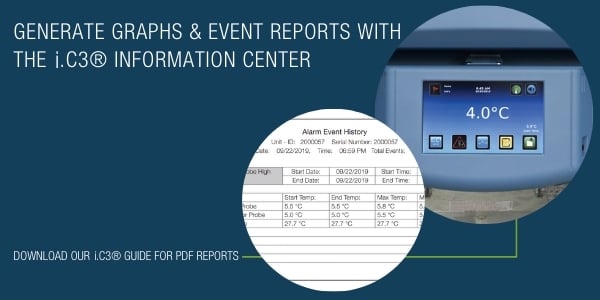 i.Series® temperature-controlled storage products from Helmer Scientific feature the i.C3® Information Center. This touchscreen user interface provides continuous temperature monitoring as well as reporting capabilities. The i.C3® supports clinical laboratories and blood banks in their efforts to meet regulatory requirements.
Clinical Labs
The College of American Pathologists (CAP) All Common Checklist provides guidance on how reagents and patient specimens should be stored. It stipulates that if a reagent manufacturer specifies a required temperature range, the temperature must be monitored daily.
i.Series® laboratory refrigerators and freezers support compliance by monitoring the temperature inside the unit. High or low temperature alarms activate if the temperature exceeds or falls below the alarm limits. In addition, the i.C3® stores temperature data and an event log. An important feature of the i.C3® is the ability to download this information via USB.
While temperature readings and a list of alarm events can be downloaded as data files, PDF download functionality is also available. Downloading PDF files provides users with pre-formatted temperature graphs and alarm event history reports. The PDF reporting functionality is easy to use and automatically generates graphs, so there is no need for users to create them from data files.
Blood Banks
The i.C3® also supports blood bank compliance with AABB Standards and CAP Transfusion Medicine Checklist requirements. AABB requires the storage temperatures of refrigerators, freezers, and platelet incubators be monitored. The i.C3® Information Center constantly monitors the temperature in the storage area along with other factors that could impact the temperature, such as door openings and power failure. Temperature performance can easily be documented using the download functionality.
For alarm tests, CAP requires blood banks be able to clearly show the temperature at which the alarm activated. The i.C3® automatic alarm test feature, along with the download capability, can help blood banks meet this requirement. A PDF alarm event history report is a convenient way to document the temperature at which the alarm sounded during an automatic test, providing an electronic record that can easily be saved or printed.
Other Blogs You Might Be Interested In...
More information is available in our i.C3® Guide for PDF Reports. It provides details on the PDF download function, along with sample temperature graphs and alarm event history reports.