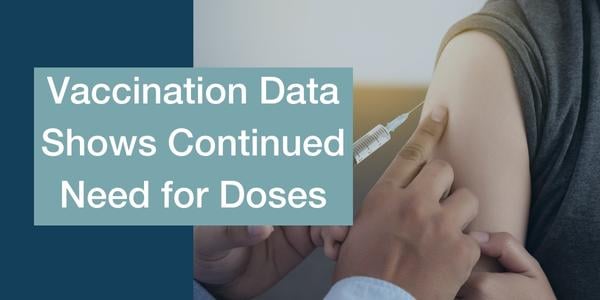 Since initially approved for emergency use in late 2020, COVID-19 vaccinations have proven to be the best weapon in the fight against COVID-19. Since the pandemic began, there have been nearly 95 million COVID-19 cases in the United States.
Recently, variant-specific boosters targeted at BA.4 and BA.5 omicron variants received emergency authorization from the FDA. 82 percent of COVID-19 infections in the United States are due to these subvariants.
67.8 percent of Americans are fully vaccinated. A person is considered fully vaccinated two weeks after receiving the second dose of either the Pfizer or Moderna mRNA vaccine or the Novavax COVID-19 vaccine, or two weeks after receiving a single dose of the Janssen/Johnson & Johnson vaccine.
A person is considered up-to-date on their vaccine schedule if they have completed their first vaccine schedule and received the recommended booster doses. Currently, the CDC recommends people older than 12 receive a booster dose. Only 33 percent of eligible Americans have received a booster dose. In September 2022, vaccination booster rates in the United States declined to less than 100,000 daily doses administered.
Data shows a booster campaign with coverage similar to 2020-2021 influenza vaccination rates would prevent more than 75,000 deaths, more than 745,000 hospitalizations, and generate savings of $44 billion associated with direct medical costs by March 2023.
If vaccination rates continue on their current pace during the next six months, a winter surge in COVID-19 infections could result in 16,000 hospitalizations and 1,200 deaths per day at the peak. A dedicated vaccination campaign could prevent COVID-19 deaths from exceeding 400 per day.
Other Blogs You Might Be Interested In...
Ensuring people have confidence in the safety and efficacy of COVID-19 vaccines and boosters is an important step in increasing vaccine adoption.
Storing COVID-19 vaccines in medical grade refrigerators and freezers that adhere to CDC Vaccine Storage and Handling Toolkit guidance and meet the NSF/ANSI 456 Vaccine Storage Standard requirements provides assurance that vaccines remain safe and effective.
Helmer Scientific offers a full range of vaccine refrigerators and freezers specifically designed for the storage of vaccines. Our solutions provide safe and effective vaccine storage and help meet CDC and NSF/ANSI 456 Vaccine Storage Standard.