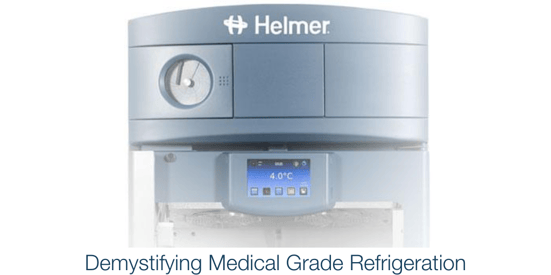 Many manufacturers market solutions for clinical cold storage applications but it can be confusing to truly understand the differences between these products. As life-saving blood therapies, vaccines, and medications all have unique cold chain requirements, ensuring cold storage safeguards products appropriately is critical. Terms such as "Pharmaceutical Grade", "Purpose Built", and "Medical Grade" are commonly used to describe these types of units. However, there are currently no standard industry definitions related to these terms which can add to potential confusion.
Temperature performance is the primary criterion that should be considered when assessing cold storage for clinical applications. Temperature uniformity is typically measured by placing multiple temperature probes across varying locations in the cold storage cabinet and then studying maximum observed differences. Units with poor uniformity may have large differences in temperature according to the location within the cabinet. This type of performance creates unique risks for highly regulated products such as vaccines and blood therapies as poor uniformity may allow these products to be stored outside of required temperature ranges. Exposure to prolonged temperatures that are too high or too low (especially if freezing) can damage product and have a direct impact on patient safety. Units with tight temperature uniformity help eliminate the risk of damaging product.
Manufacturers of clinical cold storage equipment must also consider real-life utilization of equipment when studying temperature performance. Performance that allows recovery after door openings is required, and frequency and length of door openings can vary significantly. In addition, refrigerator and freezer cabinets may be empty or heavily loaded with product. These same units may be very organized with inventory management or bin systems or disorganized with boxes, bins, and bags almost randomly placed across available space. Medical grade equipment must be designed to accommodate these types of use-cases to support compliance and safety.
Progress is being made to help create standard definitions for cold storage equipment used for clinical application. Energy Star now differentiates between High Performance and General Purpose based on performance criteria for their Laboratory Grade refrigerator and freezer categories. In addition, the CDC continues to make annual enhancements to the CDC Vaccine Storage and Handling Toolkit, and there is additional ongoing work to release new performance standards for vaccine storage equipment that will likely be incorporated into these guidelines.
Other Blogs You Might Be Interested In...
Some manufacturers offer higher-end and lower-end cold storage lines that are differentiated by performance claims and features. Helmer Scientific only manufactures equipment designed for clinical applications and all our products are designed to meet the highest standards for temperature performance. To help address confusion about differences across products in our category we are pleased to offer an article titled "Demystifying Medical Grade Refrigeration". We look forward to supporting you on your future cold storage needs!
Please download our full article titled "Demystifying the Medical Grade Refrigerator" or contact Helmer Scientific for more information.