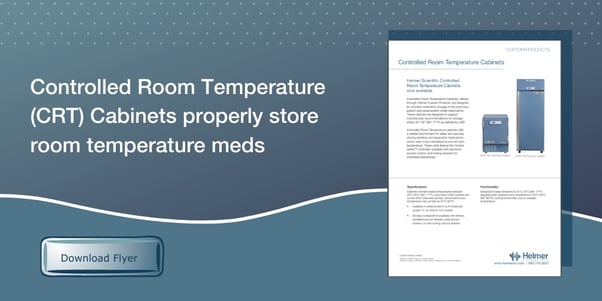 While much focus has been dedicated to cold storage of medications and vaccines, proper storage of room temperature meds or other pharmacy products at controlled room temperature should be considered. USP <1097> outlines guidance related to the storage and distribution of drugs, including the risk associated with medications requiring temperature-controlled storage.
USP <1079> defines room temperature as 20°C to 25°C (68°F to 77°F), and includes language that defines acceptable excursions, and extreme excursions that are only allowed based on mean kinetic temperatures. This language is provided to ensure drug storage is consistent with manufacturer stability testing. The purpose of these recommendations is to safeguard medication and ensure the drugs remain safe and efficacious from creation all the way to administration. Temperature excursions outside of the acceptable excursions limit can potentially put patients at risk or pose a financial impact to the facility due to drug waste.
Keeping medications at room temperature can be especially challenging in warm and humid environments. Outpatient clinics or physician offices often have little to no control of the HVAC system. It's common practice for HVAC systems to be adjusted during nights, weekends, or holidays as part of occupancy scheduling policies, and may inadvertently allow storage temperatures to rise above allowed ranges.
To help address challenges related to the storage of room temperature medications, Controlled Room Temperature (CRT) cabinets are now offered through Helmer Custom Products. CRT cabinets are available in the same sizes as our pharmacy refrigerators (undercounter and upright configurations). They are designed to support safety, quality, and compliance by maintaining product temperature in USP recommended room temperature ranges even when the ambient room temperature is as high as 32°C/ 90°F.
OTHER BLOGS YOU MIGHT BE INTERESTED IN...
To learn more about our Controlled Room Temperature (CRT) cabinets, view our one pager by clicking the link below.