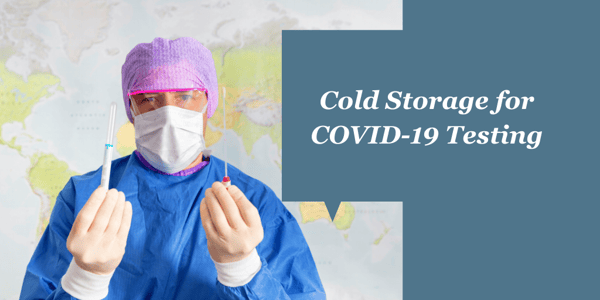 Clinical laboratories have been working intensively to scale up testing for COVID-19. During this time, the FDA has issued numerous Emergency Use Authorizations (EUAs) for SARS-CoV-2 diagnostic tests and serology/antibody assays.
Each test comes with the manufacturer's Instructions for Use (IFU) which provides storage requirements for the reagents and patient specimens. The accuracy of all laboratory testing relies on the integrity of these materials.
The CDC recommends storing specimens at 2-8°C for up to 72 hours after collection. If a delay in testing or shipping is expected, specimens should be stored at -70°C or below. Some COVID-19 tests refer to this guidance while others spell out their own unique requirements.
Clinical labs have had to face many challenges while implementing COVID-19 testing. Worrying about reliable cold storage shouldn't be one of them. Helmer Scientific offers a full range of laboratory refrigerators, freezers, and ultra-low temperature freezers designed to help you meet manufacturer's storage requirements and CDC guidance.
GX Solutions Professional, Medical-grade Laboratory Refrigerators
GX Solutions, professional, medical-grade laboratory refrigerators take cold storage to new levels. Focusing on temperature, noise and energy management, GX Solutions are the first cold storage solutions to optimize all three critical components of a superior lab refrigerator.
GX Solutions are powered by OptiCool™ technology which pairs variable capacity compressors (VCC) and natural hydrocarbon (HC) refrigerants to achieve performance characteristics that offer a superior storage environment:
Optimized temperature management - uniformity, recovery and stability
Lower noise levels - 3X quieter than conventional medical-grade refrigerators
Reduced energy usage - 50-65% more efficient than conventional medical-grade refrigerators
Supports facility environmental sustainability initiatives
Other Blogs You Might Be Interested In...
Helmer Scientific supports clinical laboratories, the patients they serve, and their efforts to ensure accurate test results. We would like to express our gratitude to all staff involved in the diagnostic testing that is critical for treating patients and saving lives. We are here to help you properly store your critical materials during the COVID-19 pandemic.
For a complete list of Helmer medical-grade cold storage products designed to keep your samples and reagents safe, download our Cold Storage for COVID-19 Testing Fact Sheet at the link below.