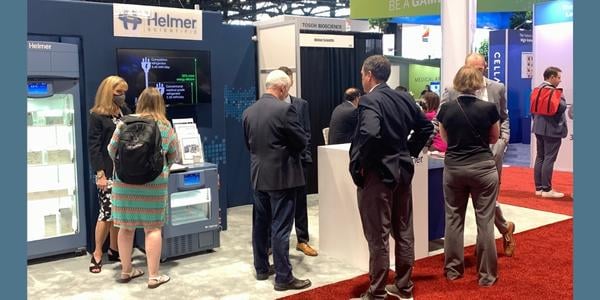 Last week, Helmer Scientific joined more than 18,000 clinical laboratory professionals at the AACC Annual Scientific Meeting and Clinical Lab Expo in Chicago. The meeting offered valuable opportunities to learn from expert speakers, attend educational sessions, network, and enhance practice skills.
As an exhibitor, Helmer used the return to live exhibitions to take advantage of valuable face-to-face interactions and to better understand the challenges faced by laboratories amidst continued COVID-19 outbreaks. We share the feedback collected from our meetings and conversations to provide better solutions for our customers.
Helmer would like to thank all of those who stopped by the Helmer Scientific booth. If you were unable to visit the booth in person, we've provided a recap of our solutions displayed and discussed at the expo.
HELMER SCIENTIFIC GX SOLUTIONS – MARKET-LEADING TECHNOLOGY
Professional medical-grade refrigerators and freezers are designed for the unique needs of the healthcare environment. Only professional medical-grade cold storage delivers optimized control in noise and energy management as well as maintaining superior temperature uniformity, stability, and recovery.
It is important to ensure patient samples and reagents used for diagnostic testing be stored at optimum temperatures to ensure accurate test results and quality patient care.
CAP REGULATORY SOLUTIONS
Helmer GX i.Series® refrigerators and freezers include the i.C3® information Center, which features automatic alarm testing and the event log, which can help labs meet CAP requirements.
BLOOD BANK SPECIALTY PRODUCTS
Long known for our blood bank products, Pro Line Countertop Platelet Storage Systems offer industry-leading performance and innovation. They feature AdvanceCore™ thermoelectric technology that automatically heats and cools only as needed to achieve and maintain the optimal temperature for platelet storage.
Additionally, energy consumption is significantly reduced by 80-90 percent over traditional incubators, lowering the cost of running the unit, reducing the total cost of the unit, and supporting sustainability initiatives.
SOLUTIONS OUTSIDE OF THE CLINICAL LAB
GX Solutions refrigerators and freezers are also used by reference labs, veterinary labs, and contract research organizations that are looking for high-quality performance and reliability to safely store sensitive and valuable samples.
Other Blogs You Might Be Interested In...
We look forward to helping you meet your laboratory needs now and in the future. Your ongoing feedback is instrumental in creating solutions to help you provide high quality patient care. If you have any questions or requests, please contact Helmer Scientific.