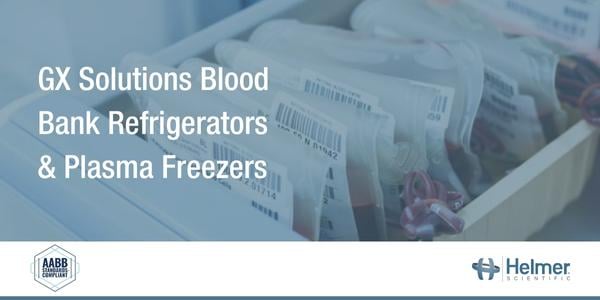 Blood products must be stored within specific temperature ranges to safeguard their integrity and maintain regulatory compliance. AABB Standards provide the requirements for storage, transportation, and expiration of various blood products.
AABB Standards state blood storage devices must have the capacity and design to ensure the proper temperature is maintained. For products stored in refrigerators and freezers, such as red blood cells and plasma, the standards specify the following temperature ranges:
Whole blood and red blood cell components should be stored from 1-6ºC
Plasma components should be stored ≤-18ºC
Blood products are a precious, life-saving resource, so it's critical to reduce the risk of loss due to temperature excursions. When selecting blood storage devices, facilities should choose equipment they can depend on to maintain the required temperature ranges.
In addition, with blood banks doing more with fewer staff members, poorly performing or unreliable storage devices should be the last thing they have to worry about. Facilities should choose equipment that is reliable and built to withstand the rigors of daily use in the blood bank.
GX Solutions Blood Bank Refrigerators and Plasma Freezers from Helmer Scientific are designed with a heavy-duty, forced-air refrigeration system that delivers excellent temperature uniformity. This ensures the proper temperature is maintained. They have also undergone Accelerated Life Testing (ALT) to ensure they perform reliably throughout their service life.
What is accelerated life testing?
ALT is conducted during the design phase of the equipment manufacturing process. The goal of ALT is to identify and address possible system weaknesses prior to equipment being released for general use.
Testing protocols are conducted by running the equipment while exposed to increased environmental stress factors, which are much higher than would be experienced under normal use conditions. Examples include elevated ambient temperatures, humidity levels, and electrical voltage conditions.
Performing ALT ensures equipment is designed to deliver long-term reliability. Manufacturers should be able to provide information and results related to tests performed on equipment to back-up reliability claims.
Our GX Solutions cold storage equipment is tested to perform consistently throughout a 10-year service life. As with all precision medical-grade equipment, regular service and preventive maintenance activities are essential to ensure peak performance.
OTHER BLOGS YOU MAY BE INTERESTED IN...
Choosing blood storage devices that have undergone rigorous testing to support reliability claims helps improve operational efficiencies by minimizing downtime and disruptions to workflow. Helmer Scientific supports the efforts of blood banks by providing reliable equipment our customers can depend on.