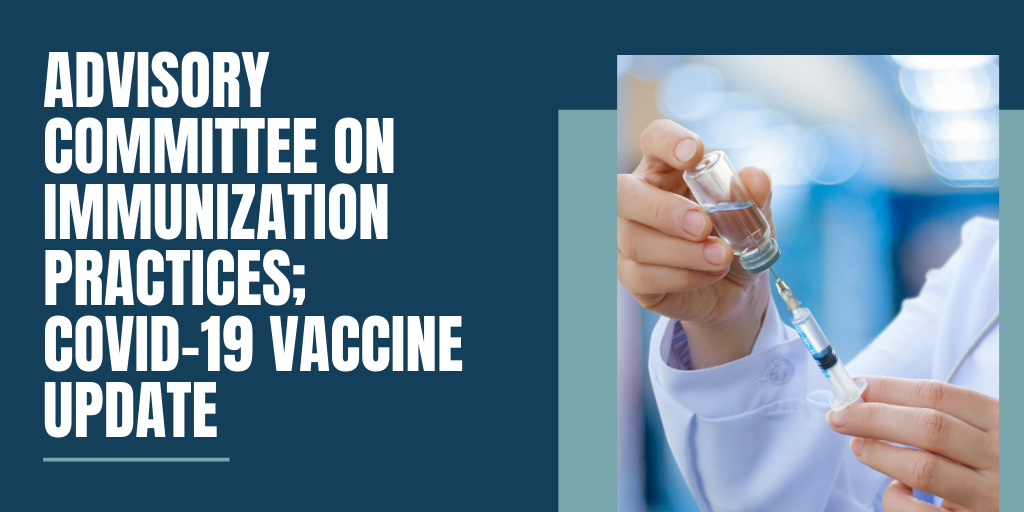 The Advisory Committee on Immunization Practice (ACIP) met on October 30, 2020. ACIP is a committee within the Center of Disease Control and Prevention (CDC) and consists of medical and public health experts that develop recommendations for immunization programs in the United States.
The most recent ACIP meeting included COVID-19 vaccine updates. ACIP released data that as of late October there are 10 COVID-19 candidates currently in US-based human clinical trials, with 4 candidates (from Pfizer, Moderna, AstraZeneca, and Janssen) in active Phase 3 studies. As the US continues to get closer to the first Emergency Use Authorization of a COVID-19 vaccine, the CDC is working towards jurisdictional readiness in November.
According to an update from the CDC overall strengths and challenges have been identified in submitted state/jurisdiction COVID-19 vaccine plans.
Examples of strengths in implementation plans:
States have plans to manage logistics and distribution around phasing assumptions that will prioritize vaccines for higher-risk patient populations, prior to having vaccines available for the general population.
Plans exist to ensure that providers of COVID-19 vaccines are able to use the Vaccine Adverse Event Reporting System (VAERS) to enable early detection of safety issues.
States have developed plans to ensure second dose reminders are sent to patients as multiple COVID-19 vaccines are expected to require 2 doses.
Examples of challenges in implementation plans
Gaps exist in communications plans that will effectively enable sharing of emergency public health information.
Efforts to identify data systems used for vaccine administration and tracking are ongoing.
Effective planning to ensure equitable access to vaccines (after initial focus on high-risk populations) continues to require attention.
In addition to these strengths and challenges, states/jurisdictions also continue to plan for multiple scenarios that could include vaccines with varying cold chain requirements. Initial vaccines require freezing and ultra-low temperatures for long-term stability, and refrigerated temperatures for shorter-term storage. Other COVID-19 vaccines in clinical trials will likely require a refrigerated vaccine cold chain, and not frozen temperatures to maintain stability.
In the CDC COVID-19 Vaccination Interim Playbook, healthcare providers are instructed to follow guidance in the CDC Vaccine Storage and Handling toolkit. This toolkit provides recommendations to use purpose-built vaccine cold storage units, and to avoid units that cannot maintain appropriate temperature performance required for sensitive vaccines.
In addition, the CDC has announced that an addendum to the toolkit will be released with additional direction specifically related to COVID-19 vaccine storage and handling. The CDC continues to reinforce the importance of effective cold storage to ensure the viability of vaccines and the overall safety of immunization programs.
OTHER BLOGS YOU MAY BE INTERESTED IN...
Helmer Scientific continues to monitor the progress of COVID-19 vaccines in clinical studies; we strive to support our healthcare customers with our line of vaccine cold storage solutions. We have created a Vaccine Storage Readiness Guide as a resource for our customers. This guide provides steps to help meet CDC recommendations for safe vaccine storage, as well as information related to emerging NSF standards for vaccine storage. Please download this guide using the following link.