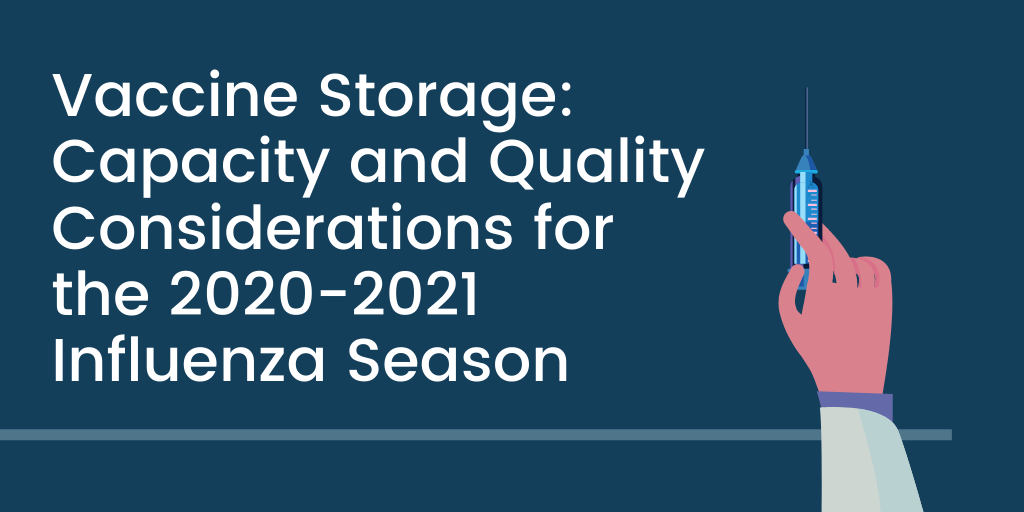 Vaccines have never been more important. According to the CDC, 2020-2021 influenza vaccinations further protect public health by decreasing flu symptoms that can be very similar to COVID-19. This can limit unnecessary stress on our healthcare providers by reducing severe illness and related hospitalizations. In addition to this focus on influenza vaccines, we are also excited to see the progress of new COVID-19 vaccine candidates as they advance through Phase 2 and 3 studies. Being prepared for influenza vaccinations, as well as preparing for the availability of new COVID-19 vaccines is a critical priority for our healthcare system. As part of these preparation activities it is critical to consider the capacity and quality of refrigerators and freezers available to support vaccine storage needs.
Capacity
The CDC Vaccine Storage and Handling Toolkit recommends considering maximum vaccine inventory levels when calculating required cold storage capacity needs. This recommendation supports having appropriate space in specialized pharmacy or "purpose-built"cold storage units, even during flu season when on-hand vaccine inventory may be at the highest. The 2020-2021 flu season poses new challenges to ensure capacity is appropriate for future needs.
The CDC estimates that 194M-198M doses of influenza vaccine will be supplied. This is significantly more than the 175M doses estimated on the CDC website for the 2019-2020 flu season. In addition, manufacturers of COVID-19 vaccine candidates have started to release information related to storage and handling. COVID-19 vaccine candidates typically have cold chain requirements for refrigerated and frozen temperatures which will also challenge providers to ensure they have appropriate capacity available.
Quality
Vaccines are sensitive products and viability can be directly related to maintaining the proper cold chain from manufacturing to the site of administration (the last mile). The CDC Vaccine Storage and Handling Toolkit includes guidance on appropriate cold storage and monitoring practices to ensure vaccines remain safe. These recommendations originated from ACIP and the CDC after studies revealed that significant quantities of vaccines stored at provider locations were exposed to temperature excursions, including instances of freezing refrigerated vaccines. These temperature excursions can affect the viability and safety of the product.
Ongoing efforts by organizations including the CDC and State Boards of Pharmacy help ensure vaccines are stored safely. In addition, an emerging vaccine storage standard is being developed by the NSF Joint Committee on Vaccine Storage to define required temperature performance of pharmacy and "purpose-built" cold storage units. This draft standard considers various vaccine load conditions and door opening scenarios to ensure safe storage under the real-world conditions our providers face.
OTHER BLOGS YOU MAY BE INTERESTED IN...
Helmer Scientific thanks all the organizations and individuals involved in promoting influenza vaccination programs and developing new vaccines for COVID-19 to improve the health of our local and global communities!