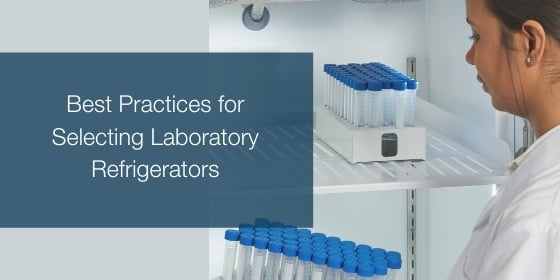 To ensure accurate test results, clinical laboratories need to ensure temperature-sensitive reagents, media, and specimens are stored properly. Medical-grade cold storage designed to maintain strict temperature ranges helps safeguard the integrity of these materials.
The reagents required to run instruments also represent a significant cost to the lab, so it is important to reduce the risk of financial loss due to temperature excursions.
Three important considerations for selecting lab refrigerators are reliable performance, regulatory compliance, and sustainability along with energy savings.
RELIABLE PERFORMANCE
Minimizing downtime and disruptions to workflow helps support operational efficiencies in the lab. All products from Helmer Scientific are designed and built to ensure they last for the long term.
During the design process for GX Solutions professional medical-grade refrigerators, thorough Accelerated Life Testing (ALT) was conducted to ensure reliable performance.
ALT identifies and addresses possible issues before equipment is released for general use. It exposes units to very high levels of stress to challenge the system and ensures the unit's design can withstand the rigors of daily use throughout a 10-year lifespan.
REGULATORY COMPLIANCE
Reagents must be stored within the manufacturer's specified temperature range to maintain their integrity and ensure compliance. The College of American Pathologists (CAP) All Common Checklist provides guidance on how these items should be stored.
All reagents and media, for example, should be stored and handled as defined by the laboratory and following the manufacturer's instructions. If a reagent manufacturer specifies a required temperature range, the temperature must be monitored daily.
GX Solutions from Helmer Scientific support compliance by maintaining tight temperature uniformity throughout all storage locations within the cabinet, ensuring clinical products are stored within the required range.
In addition, GX Solutions are designed to recover quickly after frequent or prolonged door openings, which are common in a busy laboratory environment. The temperature is constantly monitored with high and low temperature alarms that activate if the temperature exceeds or falls below the alarm limits.
SUSTAINABILITY & ENERGY SAVINGS
In addition to excellent performance characteristics, GX Solutions Lab Refrigerators support environmental sustainability. They utilize natural refrigerants that have no impact on ozone depletion and extremely low global warming potential (GWP).
GX Solutions also reduce energy consumption. For example, GX Solutions refrigerators are 50-65 percent more energy efficient than conventional medical-grade refrigerators and are ENERGY STAR® certified.
This helps facilities reduce utility costs and lowers the total cost of ownership. GX Solutions refrigerators also eject less heat, limiting their impact on heating, ventilation, and air conditioning (HVAC) systems.
OTHER BLOGS YOU MAY BE INTERESTED IN...
Visit GX Solutions from Helmer Scientific for more information on the performance and benefits of professional medical-grade cold storage. To learn more about refrigerated storage designed to keep your laboratory materials safe, review our best practices guide.