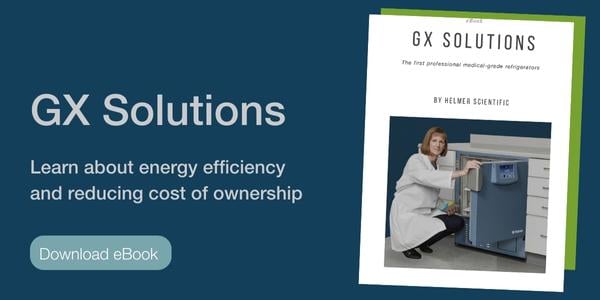 Patient specimens and reagents are temperature-sensitive and must be stored properly to ensure accurate test results. Clinical labs that implement medical-grade cold storage designed to maintain strict temperature ranges ensure the integrity of their reagents and samples. Medical-grade refrigeration also supports compliance with accrediting agencies and reduces the risk of financial loss.
Traditional cooling technology has been used in medical-grade refrigerators and freezers for many years. These conventional cold storage units can maintain the appropriate temperature range for materials such as reagents and samples.
However, the refrigerants traditionally used in these units have higher global warming potential and heat rejection than alternative coolants. Conventional refrigeration systems also tend to consume more energy than newer approaches.
Advances in cooling technology have made it possible to substantially reduce energy use while keeping sensitive laboratory materials within required temperature ranges. The use of environmentally friendly refrigerants with low global warming potential and efficient variable capacity compressors significantly reduces energy consumption while at the same time achieving optimal temperature management.
GX Solutions professional medical-grade refrigerators from Helmer Scientific utilize innovative OptiCool™ technology. Designed for critical healthcare applications such as the storage of patient specimens and reagents, GX Solutions offer optimal temperature management along with decreased energy use. This can help facilities reduce their utility bills, lowering the total cost of ownership.
The following examples are intended to illustrate how energy savings can help a facility's bottom line. Data on the cost of electricity in the United States was accessed from the U.S. Energy Information Administration (EIA) to assess the impact of energy efficiency on cost of ownership.
LABORATORY REFRIGERATORS
If a lab converts one 25 cubic foot refrigerator that consumes 7.04 kWh/day to a GX Solutions refrigerator of the same size that consumes 3.01 kWh/day, facilities in regions with average energy costs would save more than $179 annually. Areas with higher energy costs could save $283 a year (or more, depending on the region).
Over the 10-year lifespan of the refrigerator, this means savings of $1,790 to $2,830 could be realized per unit. Of course, if more than one refrigerator within a facility is converted, the energy savings and additional benefits multiply accordingly.
LABORATORY FREEZERS (-30°C)
A similar analysis performed for -30°C laboratory freezers also demonstrates significant savings. Regions with average energy costs would save more than $300 and areas with higher energy costs could save $473 annually (or more, depending on the region).
Over the 10-year lifespan of the freezer, this means savings of $3,000 to $4,730 could be realized per unit, and if multiple freezers within a facility are converted, the benefits and energy savings continue to add up.
OTHER BLOGS YOU MAY BE INTERESTED IN...
In addition to reducing the cost of ownership, GX Solutions with OptiCool™ technology provide optimal temperature management for sample and reagent storage as well as lower noise levels. Learn more with our eBook.