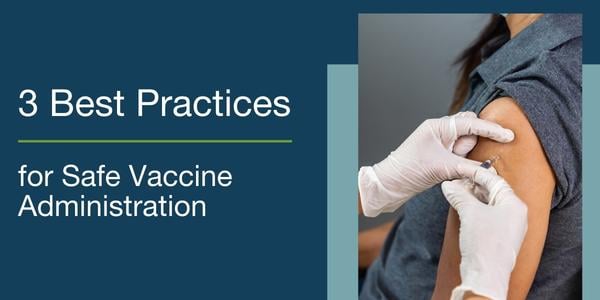 Temperature monitoring for vaccine storage is important. Vaccine inventories exposed to temperature excursions represent a risk to public health, and patient safety and vaccine efficacy may be impacted if vaccines are stored outside the manufacturer's recommended temperature for any period of time.
Temperature excursions also represent a financial risk. Depending on the length and severity of the excursion, vaccine inventories may need to be replaced, and any individual immunized with a vaccine exposed to a temperature excursion may need to be re-vaccinated. This adds additional costs due to office time and resources needed to administer additional vaccine doses.
Here are three best practices vaccine administrators can follow to ensure their temperature monitoring and control processes support the continued delivery of safe and effective vaccines:
Develop temperature monitoring processes and procedures aligned with CDC Vaccine Storage and Handling Toolkit
Including daily temperature monitoring activities and procedures for addressing temperature excursions in standard operating procedures reduces the risk to vaccine inventories.
The CDC developed the Vaccine Storage and Handling Toolkit to provide standardized best practices vaccine administrators can follow. The toolkit also provides best practices for choosing storage equipment, training staff, and managing vaccine inventories.
Use centralized monitoring technology and choose equipment with the ability to integrate
Temperature monitoring and control may be a cumbersome process. Vaccine administrators should utilize a temperature monitoring platform that can help optimize and centralize temperature monitoring and the associated processes for handling temperature excursions.
Choosing equipment that can easily integrate with this technology provides full-scale visibility into the vaccine storage cold chain and increases efficiency. It also can identify equipment temperature trends, addressing potential equipment failure risks before they occur, further protecting vaccine inventory.
Helmer refrigerators and freezers configured with i.Series® technology have Ethernet accessibility, direct integrations with certain temperature monitoring technologies, and an API that allows for integration with most other technologies.
Choose medical-grade equipment that meets the NSF / ANSI 456 Vaccine Storage Standard
The CDC, in partnership with the NSF, the American National Standards Institute (ANSI), several vaccine manufacturers, vaccine storage equipment manufacturers, and medical clinicians, recently collaborated to develop the NSF / ANSI 456 Vaccine Storage Standard. This is the first standard that provides detailed performance requirements for refrigerators and freezers used to store vaccines.
Choosing equipment certified to the NSF / ANSI 456 Vaccine Storage Standard provides peace of mind that vaccines will be stored in equipment suited to protect vaccine inventories. Certified units must support temperature monitoring activities, such as temperature excursion alarms, and include a digital data logger (DDL), which provides access to detailed data about temperature performance at all times.
The new standard also requires equipment to be calibrated, and certificates of calibration must be maintained based on manufacturer recommendations, which ensures high-level performance throughout service life.
GX Solutions refrigerators and freezers from Helmer Scientific have been certified to meet the NSF / ANSI 456 Vaccine Storage Standard.
Other Blogs You Might Be Interested In...
Helmer Scientific supports the safe handling and storage of vaccines. Our GX Solutions are available with NSF / ANSI 456 certification and are designed to not only provide leading temperature performance, stability, and recovery, but also to provide the integration and technology to support efficient temperature monitoring and comply with CDC and VFC standards.