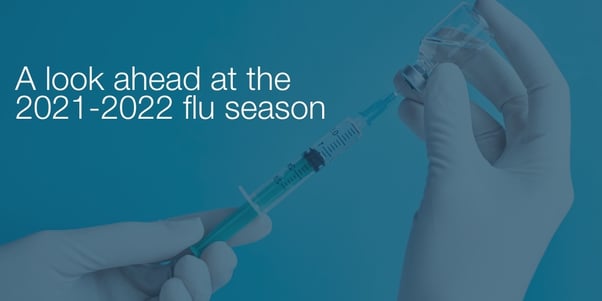 According to the CDC, last year's flu season saw the highest number flu vaccine doses ever administered. More than 193 million doses were given, and about 53-54% of adults received a flu vaccine. This coverage is higher compared to the previous year, which was about 48% of adults. Vaccination coverage among children was 58.2%, which is lower compared to the previous year's 62.3% coverage rate.

The pandemic increased demand for the flu vaccine, and it is expected demand will remain high for this upcoming flu season. Experts are expecting more than 190 million doses to be administered during the 2021-2022 flu season. Aside from pre-booking vaccine supply by March of each year, providers can also prepare by evaluating their vaccine storage capacity and capabilities.
The CDC recommends providers choose purpose-built, stand alone units, designed for storing vaccines and other medical-grade products. These storage units safeguard vaccines by providing reliable, consistent temperatures across multiple locations inside the unit. The following recommendations are also outlined in the CDC Vaccine Storage and Handling Toolkit:
Monitor the equipment's temperature using a digital data logger (DDL)
Calibration testing every 1-2 years, or according to the manufacturer's guidelines
Conduct routine maintenance for all vaccine storage units and related equipment so that your equipment functions at maximum efficiency
additional considerations
Although these features are not outlined in the CDC Vaccine Storage and Handling Toolkit, they are important to consider when selecting a vaccine refrigerator or freezer.
Designed and built by an FDA GMP and ISO 13485 compliant manufacture of medical devices
Low Global Warming Potential for sustainability initiatives
Minimal heat output to help maintain HVAC systems
Low operating decibels for a quiet staff and patient environment
Meets emerging NSF / ANSI 456 Standard for Vaccine Storage
In addition to the flu vaccine, COVID-19 vaccines for children and back to school / routine immunizations will collide and providers should be prepared for increased storage needs. Experts recommend providers store equal amounts of flu vaccine and the COVID-19 vaccine to be prepared for the vaccine demand wave this fall. Now is an important time to evaluate and prepare for effective and safe vaccine storage. Helmer's GX Solutions line of pharmacy refrigerators and freezers can help your facility prepare. We even offer a Quick Ship program to fulfill immediate needs for additional vaccine storage.
OTHER BLOGS YOU MAY BE INTERESTED IN...
Helmer is prepared to meet additional vaccine storage demand this fall and continue to provide customers solutions to ensure vaccine safety and efficacy. Download our Vaccine Readiness Guide to learn more about how we are rising to the challenge to continue to meet our customer's vaccine storage needs through unprecedented demand.