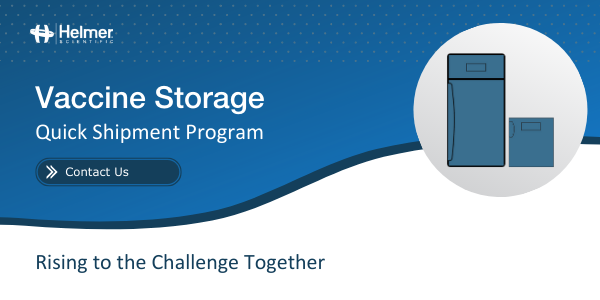 As the COVID-19 vaccine rollout continues, the demand for reliable cold storage does too. Currently, there are two vaccines approved for emergency use. The Pfizer vaccine requires storage at ultra-low temperatures, -70°C, and the Moderna vaccine requires storage in a freezer at -20°C or in a refrigerator at between 2°C and 8°C for 30 days. A third COVID-19 vaccine from Janssen / Johnson & Johnson is expected to receive EUA at the end of February. This vaccine will require storage in a refrigerator.
Every Vaccine Counts
Reliable cold storage is vitally important to safeguard these vaccines. Helmer's line of pharmacy refrigerators and freezers meet CDC guidelines and other emerging standards for proper vaccine storage. Ensuring proper cold storage prevents costly temperature excursions which can negatively impact the vaccine potency, or worse, spoil the vaccine entirely. These potential temperature excursions are not only costly, but time consuming in the event a facility must revaccinate patients.
The Right Cold Storage Solution
Only professional medical-grade freezers deliver optimized control in three important areas: temperature, noise, and energy management. Helmer's GX Solutions can help your facility be prepared for the COVID-19 vaccines. GX Solutions are powered by OptiCool™ technology which utilizes natural hydrocarbon refrigerants and a variable capacity compressor (VCC) to deliver best in class performance.
GX Benefits:
Superior temperature uniformity, recovery, and stability
Efficient energy management and reduced energy costs
Reduced noise which improves workplace productivity and comfort for patients
Use of an environmentally friendly refrigerant that supports environmental sustainability
Designed to meet CDC guidelines and emerging standards
Quick Delivery
Be ready to store vaccines safely with our Quick Ship Vaccine Storage program. Our Quick Ship program offers facilities a selection of vaccine refrigerators and freezers that are available for immediate shipment.
Choose from our stocked inventory: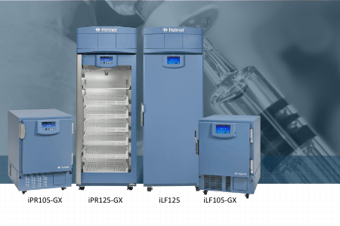 iPR105-GX – Undercounter Pharmacy Refrigerator
iPR125-GX – Upright Pharmacy Refrigerator
iLF105-GX – Undercounter Laboratory Freezer
iLF125– Upright Laboratory Freezer
The right cold storage solution helps your facility address vaccine demands and requirements. Helmer Scientific is prepared to support your facility with innovative refrigeration solutions, as we rise to these new vaccine challenges together.
OTHER BLOGS YOU MIGHT BE INTERESTED IN...
Click the link below to contact us today to learn more about our Quick Ship program and to request a quote.