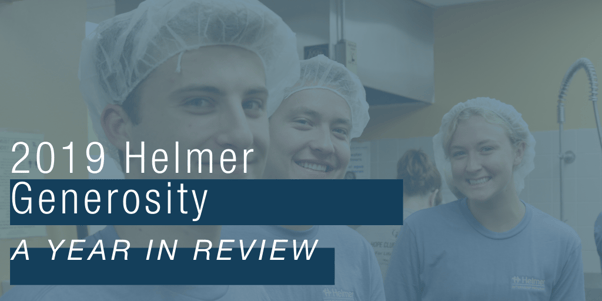 At Helmer Scientific, we are active in our responsibility to the local and global community. We believe that communities thrive when we serve each other. At Helmer we work to foster a culture of generosity by engaging employees to give back to the community. There are three areas where Helmer works to make an impact: community, youth and global.
Team members are encouraged to make a difference through employee volunteerism by leveraging their time and talent to positively impact a cause or nonprofit that they are passionate about. Our employee-driven volunteer program offers teammates the opportunity to grow in areas of personal generosity.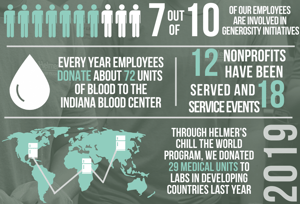 In 2019, 7 out of 10 Helmer employees were involved in a Generosity Initiative. Twelve non-profits and 18 service events were served, and about 72 units of blood were donated to the Versiti Blood Center of Indiana. In addition, 29 medical units were donated to labs in developing countries through the Chill the World program.
New for 2019, additional grants were offered for three categories: New Volunteer Leader, New Non-profit and Overall Impact.
New Volunteer Leader – Lisa Cullinane, Women in the Wind
The Women in the Wind event provides guided "on the water" activities for 12 underserved women who are in critical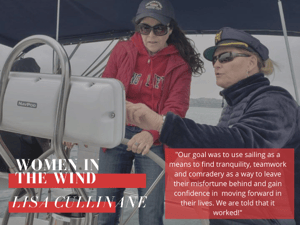 transition points in their lives and are at risk due to illness, abuse or severe financial hardship.
The event uses sailing as a means of enabling these at-risk women to find peace, joy and confidence by taking them on a day sail from Dana Point, CA.
Lisa Cullinane, Key Account Manager, is the co-chairperson for this event. She donated her sailboat for the event as well as captained her boat and sailed with the women on the day of the event. "Flanked by confident, successful women from the WSA-OC, we are able to impact the lives of many women who have had limited exposure to the beauties of the ocean and nature," said Lisa.
New Non-Profit – Paul Copeland, Kiwanis Kar Show
The Kiwanis Kar Show was held in Pendleton, Indiana. Set to be held shortly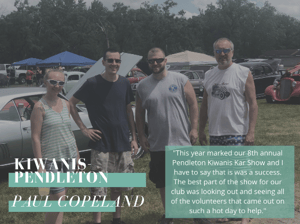 after a tornado ripped through the town of Pendleton, the Kar Show had to be moved to a new location. Helmer volunteers helped park cars and judge the event. All proceeds from the Kiwanis Kar Show were donated to children in need in the Pendleton community and to the Riley Hospital for Children in Indianapolis.
Overall Impact – Mike Stevens, Fueled for School
Fueled for School is an organization that is working to eliminate hunger among Hamilton County, Indiana, students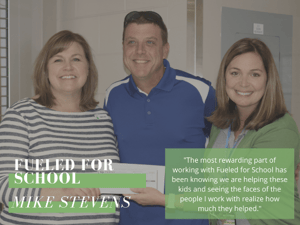 by providing food insecure youth with nutritious weekend meal packs. When Mike discovered that 25% of Noblesville school kids have food insecurities, he started looking for ways to get involved. "I never would have thought this was an issue in Noblesville. We are worried about materialistic things when kids don't have food to eat," said Mike.
Mike has led several meal packing sessions with Helmer employees. His passion also spread to his family, as his wife and daughter have gotten involved with Fueled for School and hold food drives at their place of employement. Mike is involved with the Helmer Generosity Steering Team and was encouraged to search for how he could better serve the community. He decided that instead of just volunteering, he actually wanted to lead an event. "The most rewarding part of working with Fueled for School has been knowing we are helping these kids and seeing the faces of the people I work with realize how much they helped."
OTHER BLOGS YOU MIGHT BE INTERESTED IN...
Caring for the community starts at home. Being able to support our local non-profits is part of the grass-roots effort that is the backbone of the Helmer Scientific Generosity program. We would like to congratulate the three grant winners for their dedication and work to make a difference, as well as recognize all team members who were part of the initiative programs for 2019.