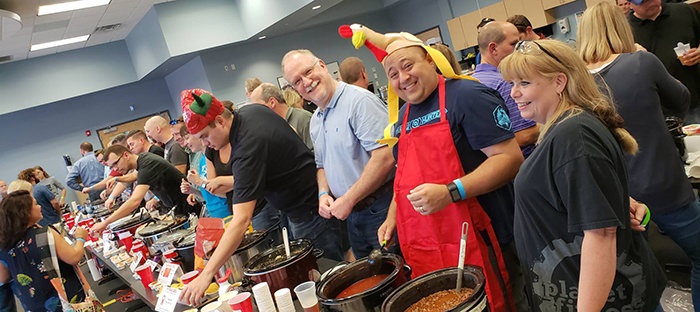 Since 2012, the Helmer Scientific team has been serving up chili for charitable causes at its annual Chili Cook-off. And this year's event was bigger than ever. Helmer welcomed almost 400 of its team members and their families along with company partners and local nonprofits to a festival of community generosity.
Forty-seven chili entries with names like "Pinterest Fail Chili" and "All Jalapeno Business" competed to win over the judges in a blind taste test. Entrants also competed for the highly coveted People's Choice Award. Four-Time Grand Champion Jared Owens remarked, "The cook-off is a perfect opportunity to engage in our generosity initiatives and support those in need in a unique way. I love seeing the creativity and camaraderie the cook off brings out in folks." (He must also love to win this contest!).
In addition to the scrumptious homemade chili, the event featured food from Aspen Creek, a live band, a Triton Brewing beer garden, two bounce houses and a reptile show for kids!
The purpose of the festival was to recognize Helmer's volunteers and raise awareness for the 17 impactful nonprofit organizations they serve. With its "our resources follow our people" strategy, the company showcased a wide range of nonprofits that represent the passions and service-work of the Helmer team, including: Dream Alive; Romaniv Orphanage through Mission to Ukraine; Dayspring Center; Outreach Inc.; Chaucie's Place; Joy's House; Community Health Network Foundation; Tech Point Foundation for Youth; Prevail; Hoosier Veterans Assistance Foundation; Hamilton County Harvest Food Bank; St. Vincent de Paul; Horizons; Hands of Hope; Starfish Initiative; and the American Cancer Society. We also featured the Indiana Blood Center, a nonprofit the Helmer team hosts four times a year allowing Helmer and surrounding companies' employees to donate blood.
Eric Muller, the Executive Director of Dream Alive, commented about the event, "It was an absolute honor to be a part of the Helmer Chili Cook Off and to see Helmer's impact in the community. It's not just financial, but it's hours served and real lives changed. I can say that the first thing I think of when I think of Helmer is the people are just as passionate as I am about serving at-risk youth. In a way, the Chili Cook-off was an opportunity to gather and see the legacy created in the community."
Between Helmer and the generous contributions of our partners in the community, the event raised $18,000 so far for the featured nonprofits. (If you'd like to donate to these great nonprofits or learn more about them visit www.helmerinc.com/chilicookoff2018.)
The annual Chili Cook-off is just one way that Helmer is making a difference in the community and around the world. Through Helmer Generosity Initiatives, the company engages individuals and organizations at their highest level of capability to provide aid and justice for the poor and vulnerable. Through this platform, Helmer supports individuals in their discovery and pursuit of personal generosity through service.Year-round Helmer volunteers team up to serve nonprofits in the community. This year alone, Helmer volunteers have completed a total of 12 projects ranging from burrito wrapping to feed homeless youth with Outreach, Inc to fishing with homeless veterans in support of HVAF.
Furthermore, upon realizing that many of the service projects and nonprofits supported at-risk youth in underserved communities in a variety of ways, Helmer launched a service campaign called Strong Futures to raise awareness and engagement for these combined efforts. In Indiana where about 1 in 5 kids live in poverty, this focused signature cause amplifies and connects the passions of volunteers and nonprofits to provide mentoring, education, abuse prevention, foster care, homeless youth assistance, and more.
In addition to service, Helmer supports the community through its "our resources follow our people" strategy where the company directs funding to areas that align with the passions and service-commitments of the Helmer team. Volunteers can get access to company matching funds based on their level of engagement with nonprofits in the community.
Helmer also regularly donates products to hospitals, blood banks and research institutions in developing countries through its Chill the World program. Through partners like Supplies Overseas, Global Healing, and Seeding Labs, Helmer donates a mixture of refrigerators, freezers, incubators, agitators, plasma thawers, centrifuges, and cell washers around the world. This year the company has donated over 65 products.
All told, over 70 percent of Helmer's team members are engaged with Helmer Generosity Initiatives in some way. For Helmer, generosity is an essential part of the company's purpose and culture. Helmer CEO Bruce King explained, "At Helmer, we are out to prove that a company can demonstrate sincere generosity and bring people together to support those in need while still cultivating a successful, profitable, and sustainable organization. We are more committed to this mission now than ever, especially with all the examples of selfishness and division that seem so pervasive around us today."
Strong Futures: Empowering Kids and Youth is an employee driven service campaign intended to encourage employees and their families to serve together to empower at-risk kids and youth.