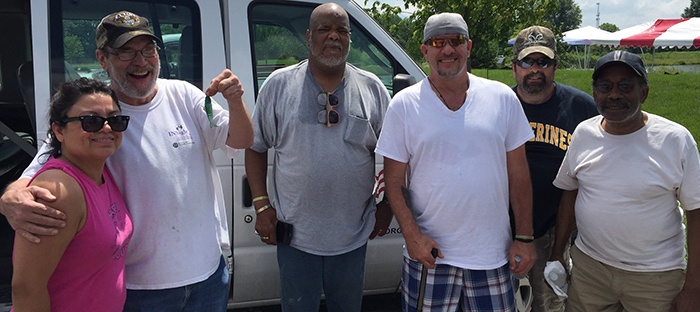 Together it is amazing what we can accomplish." "So many things divide us in this country, but we all come together to support our troops who have given so much. It is an honor to serve our Hoosier veterans."
Strong words and an even stronger message spoken by the leaders of the recent Helmer Generosity grassroots effort, Fishin' on a Mission, Julia Coy and Akil Jordan. The Fishin' on a Mission initiative, led by Helmer employees, raised funds and awareness for the Hoosier Veterans Assistance Foundation (HVAF). The fishing competition took place over the month of June at the lake adjacent to the Helmer Scientific Headquarters. Employees and their families were encouraged to come fishin' for veterans over the 4-week period. A competition was held to crown the champion for the largest bass, catfish and crappie. In addition, a raffle and multiple bake sales raised additional funds for HVAF.
The initiative wrapped up with a celebratory cookout where Hoosier veterans from HVAF were invited to come and fish alongside Helmer team members. The first annual Fishin' on a Mission initiative raised 3X more than the expected goal of $1000 and plans for a second event are already underway.
Hoosier Veterans Assistance Foundation (HVAF) helps homeless veterans return to self-sufficiency and engages at risk veterans to prevent them from becoming homeless by providing supportive housing, case management, food, hygiene and clothing as well as other essential services. Last year, 2,259 veterans had a safe place to sleep, and 1,205 family members including 554 children received counseling and guidance. Learn more about how you can assist HVAF.