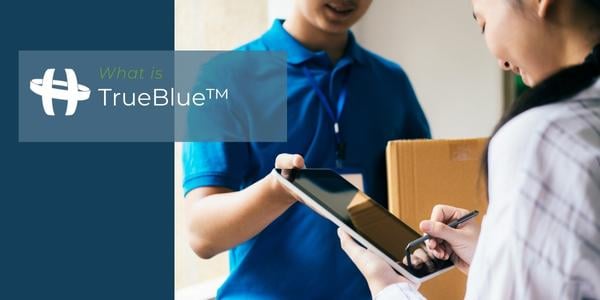 Helmer Scientific delivers best-in-class equipment and provides the service to keep it running at its peak for years to come. Our TrueBlue™ service vision is simple: Provide truly different service.
What does this mean?
Our goal is to take the burden off your internal teams and provide peace of mind. With our TrueBlue™ Installation Service and TrueBlue™ Service Partnerships, we offer operational efficiencies and convenience, uptime management support, regulatory support, and high-level visibility of service history and events.
Operational Efficiencies and Convenience
With a single contact for all cold storage preventative maintenance and service needs enterprise-wide, we can prioritize field response to support your needs quickly. Removing this burden frees up your internal teams to focus on patient care.
Uptime Management
Equipment failure is a big problem. It disrupts your day, puts your inventory at risk, and may impact patient care. Our TrueBlue™ service is dedicated to providing technical support resources, faster repair service, improved first visit repair success, and loaner availability. This level of support leads to less downtime and a decreased risk of inventory loss.
Regulatory Support
Our TrueBlue™ service partnerships help you navigate the evolving regulatory landscape to keep cold storage units compliant. Regulations such as NSF/ANSI 456 Vaccine Storage Standard, USP <797> and <800> requirements, URAC and ACHC specialty pharmacy accreditation standards, and AABB standards require reference documentation such as certificates of calibration to prove that equipment has been properly validated.
Our service partnerships provide these services and documentation, as well as store and offer easy access to documents when needed for audits or accreditation.
Service History and Event Visibility
Maintaining and accessing reference documentation and service records is time consuming. Through our TrueBlue™ service partnership, we will create a service record repository to provide visibility to historical records for service, PMs, and calibrations.
Medical staff will have one-click access to all information on a per-unit level via this central repository. Helmer will also manage the PM scheduling throughout the facility to ensure equipment is maintained regularly and remains compliant.
Manufacturer Agnostic Support
Helmer will provide support services for all medical-grade refrigeration regardless of brand. A TrueBlue™ agreement provides a single-point solution to manage the complexities of maintaining and resolving cold storage issues.
Other Blogs You Might Be Interested In...
A Partnership in Success
We stand behind our name. TrueBlue™ service from Helmer Scientific is truly different service. We are more than a service company. We are a partner in properly maintaining your cold storage, helping to ensure patient safety, maintaining regulatory compliance, and preventing financial loss related to downtimes or performance issues.