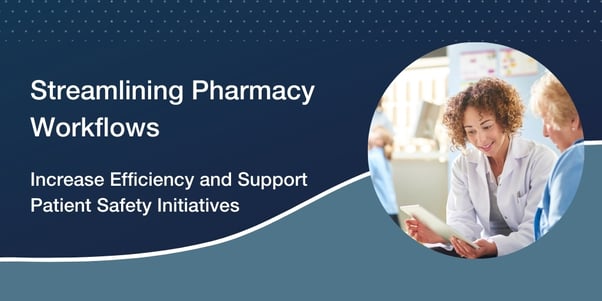 According to a 2019 National Pharmacist Workflow Study, more than 60% of pharmacists surveyed said their workloads had risen in the past year. Not long after this study was released, the COVID-19 pandemic added to the expanded workload of pharmacists. Since the onset of the pandemic, pharmacists in both in-patient and out-patient settings have faced increases in workload and responsibilities. On top of ensuring the safety and accuracy of thousands of prescriptions per week, many pharmacists were asked to support COVID-19 testing, manage new demand for drugs used to treat COVID-19, and now many are managing vaccine storage and administration in their facilities and communities.
While the demand for pharmacists continues and workloads increase, facilities should look for opportunities inside their pharmacy to increase efficiency and streamline workflow. Supporting demand and increased responsibilities can reduce risk of medication errors, support patient safety initiatives, and prevent financial consequences of mishandled drugs or vaccines.
Helmer Scientific offers customers a variety of products and services to support pharmacists and streamline pharmacy workflows.
Interlocking Pass-Thru Refrigerators
Pass-thru refrigerators with interlocking doors can help facilities meet USP<797> requirements and enhance clean room workflows. Placing a pass-thru refrigerator between a clean room and the main pharmacy can increase visibility and eliminate the need for staff to enter or leave the cleanroom, reducing the risk of contamination. Pharmacists in the main pharmacy area can also easily check inventory in the refrigerator without having to garb up and enter the clean room. This allows for less foot traffic in and out of the cleanroom and a decrease in the amount of garb used and disposed.
i.Series® for Vaccine Storage
Helmer's GX Solutions i.Series® lab and pharmacy refrigerators and freezers help facilities meet CDC guidelines for temperature monitoring with the i.C3® Information Center. The i.C3® Information Center is a touchscreen user interface integrated into Helmer's i.Series® product line, including refrigerators, freezers, and ultra-low freezers. The i.C3® Information Center provides intelligent diagnostic information and temperature data, while providing security features to keep the information safe. It consolidates everything you need to know about the status of your storage device in one secure location.
BD Partnership
The BD Pyxis ES refrigerator with Helmer Access Technology features precise temperature management and secure locking bins that unlock when accessed via the BD Pyxis MedStation ES system. This system innovates delivery of care by improving clinical workflow efficiency and standardization around removal of refrigerated medications at the point of use. This medication management system also supports medication safety by properly securing and storing refrigerated medications, preventing diversion and the associated risk to medication safety and patient care.
Service Agreements
Keeping with a service schedule can help extend the life of your cold storage equipment, prevent temperature excursions and in some cases, prevent total equipment failure. Consistent and routine maintenance can also help your facility reduce the risk of non-compliance and unsatisfactory audits. Helmer can manage and perform routine maintenance on all medical-grade cold storage units through our Customized Service Partnership and Service Level Agreements. With a Service Level Agreement, customers can expect 24/7 emergency support, preventative maintenance from certified technicians, management of regulatory process for Certificates of Calibration, and maintenance record keeping.
OTHER BLOGS YOU MIGHT BE INTERESTED IN...
Helmer would like to recognize and thank all pharmacists who have been on the front lines during the COVID-19 pandemic. To learn more about Helmer's full line of products and services designed to support pharmacists, visit our website.
Sources: https://www.nbcnews.com/health-care/overworked-understaffed-pharmacists-say-industry-crisis-puts-patients-safety-risk-n1261151