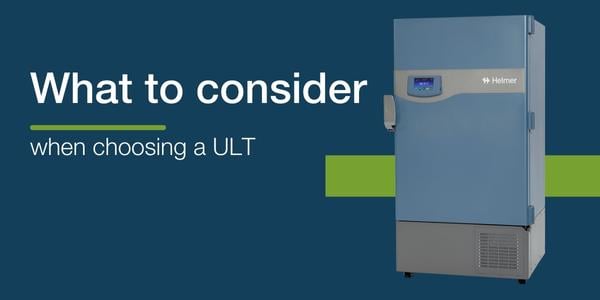 Clinical labs rely on ultra-low freezers to store valuable samples and other materials within a specified temperature range. Storage at the proper temperature safeguards the integrity of these items. It is critical for ensuring accurate test results, maintaining regulatory compliance, and preventing financial loss due to temperature excursions.
Freezers capable of storing materials at ultra-low temperatures such as -70° or colder are often needed for longer-term storage. There are several factors that are important to consider when selecting an ultra-low freezer for your lab. These include performance, reliability, and intelligent features that help support regulatory compliance.
PERFORMANCE
Protecting samples from unnecessary exposure to warmer temperatures is essential to ultra-low freezer performance. i.Series® Ultra-Low Freezers from Helmer Scientific are designed with this objective in mind. The Heat Barrier System™ provides multiple levels of heat containment.
The Heat Barrier System™ combines specially designed components that work together to prevent the intrusion of warmer air and moisture. These design elements include the outer door, the door frame and cabinet, and the inner doors.
The outer door should feature a robust design with heavy-duty, adjustable hinges. An ice-resistant door frame maintains a tight seal for optimal temperature uniformity and to minimize interior frost buildup. The inner doors should be designed to prevent warm air from entering the closed compartments and affecting the temperature of the samples inside.
RELIABILITY
One of the most important concepts in the design of a reliable ultra-low freezer is an optimized refrigeration system that protects the compressor. Oil management is critical to preventing freezer warm-ups.
The compressor, which must move refrigerant through the copper coils, requires oil to function properly. Unfortunately, oil that sits idle in an extremely cold environment will form clogs that prevent the refrigerant from moving through the system. This issue is referred to as "oil logging."
The clogs result in warm-ups because they prevent the refrigerant from moving through the system to cool. When warm-ups occur, the solution is to remove all the samples, defrost the freezer for 2 or 3 days, and then restart. A service company may be called in to assist, resulting in additional cost.
The best way to eliminate this disruptive and potentially expensive scenario is to use a freezer designed to prevent oil logging. Ultra-low freezers from Helmer Scientific incorporate a three-step approach to oil management, first by minimizing the oil in the evaporator section, then by preventing oil from collecting anywhere in the system, and by keeping the oil flowing at low temperatures.
INTELLIGENT FEATURES
i.Series® ultra-low freezers include the i.C3® Information Center. The intelligent features of the i.C3® support clinical laboratories in their efforts to meet regulations for storing reagents and patient specimens.
The College of American Pathologists (CAP) All Common Checklist provides guidance on how these materials should be stored. It stipulates that if a reagent manufacturer specifies a required temperature range, the temperature must be monitored daily.
The i.C3® Information Center supports compliance by monitoring the temperature inside the freezer. High or low temperature alarms activate if the temperature exceeds or falls below the alarm limits. Additional features, such as an onboard temperature graph, event log, and downloadable temperature and event files also help support compliance with regulatory requirements.
i.Series® Ultra-Low Freezers also include Access Control as a standard feature. To unlock the door, users must enter a personal identification number. Each entry into the freezer is tracked in a downloadable Access Log. This enables user-specific secure access to the freezer and is especially helpful when freezer space is shared.
OTHER BLOGS YOU MAY BE INTERESTED IN...
Visit our website for additional information and resources on ultra-low temperature storage.