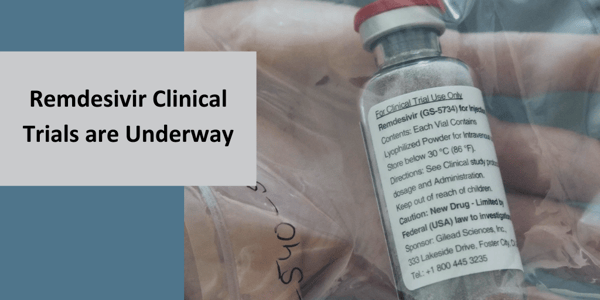 Two hospitals local to Helmer Scientific are currently participating in Remdesivir clinical trials for the treatment of COVID-19. The drug has recently been made available for Emergency Use Authorization (EUA) in the United States after a placebo-controlled trial conducted by NIAID.

Remdesivir is a direct acting antiviral drug that inhibits viral RNA synthesis. It is an investigational drug and is not currently approved for any indication. Remdesivir has activity in cell culture and animal models against SARS-CoV, MERS-CoV, and SARS-CoV-2 (FDA).
Remdesivir for injection, 100 mg, vials should be stored below 30 °C until time of use. Remdesivir injection, 5 mg/mL vials should be stored at refrigerated temperatures (2 °C to 8 °C) until time of use. Following dilution with 0.9% saline, the solution can be stored for up to 4 hours at room temperature (20 °C to 25 °C) or 24 hours at refrigerated temperatures (2 °C to 8 °C).
According to WTHR, a local Indianapolis news station, IU Health has been part of a study to see if shortening the duration of treatment has an impact on outcomes.
'"Currently, we are treating everyone with 10 days of Remdesivir, but if you can treat it with five days treatment course with the same efficacy and safety, then obviously that's a benefit and could double the drug supply," said Dr. Samir Gupta, an Infectious disease specialist with IU (WTHR)."'
Another local Indianapolis hospital, St. Vincent, is also participating in a different Remdesivir study. State officials claim that the drug is being made more widely available under EUA for patients throughout the state (WTHR).
Additional information on the ongoing Remdesivir clinical studies is accessible at the following links:
Other Blogs You Might Be Interested In...
Helmer Scientific is proud to support the safe storage and handling of temperature sensitive vaccines. We provide the highest quality and reliability when it comes to vaccine refrigerators and freezers. To learn more about our vaccine storage equipment, visit the link below.
Image courtesy of Healthline.com