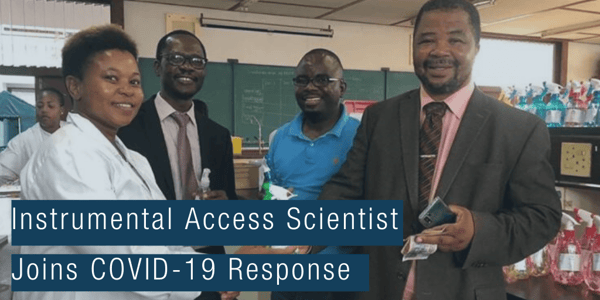 Photo courtesy Seeding Labs/University of Eswatini
Instrumental Access awardee, Dr. Thabile Ndlovu, of the University of Eswatini, has joined the COVID-19 fight. As was the case in many countries, people raced to buy essentials and quickly depleted the hand sanitizer supply when the first case of COVID-19 was confirmed in Eswatini on March 14.
Thanks to a shipment of Instrumental Access equipment from Seeding Labs that arrived on campus February 2020, Dr. Ndlovu and her team were able to undertake a project using their lab infrastructure to mass produce hand sanitizer. Before social distancing was implemented, Dr. Ndlovu's team followed the WHO's recommended formulation and mass produced an estimated 100 liters (around 26 gallons) of hand sanitizer.
Seeding Labs' Instrumental Access program provides scientists with the tools they need to address critical scientific challenges, such as COVID-19. They collect surplus scientific equipment donations and channel them to talented scientists in developing countries to encourage solutions to our shared global challenges.
OTHER BLOGS YOU MIGHT BE INTERESTED IN...
Helmer Scientific supports Seeding Labs through cold storage equipment donations as part of our "Chill the World" generosity program. We are proud that our equipment donations are helping to solve challenges globally. We would also like to thank the healthcare providers and others on the frontline who are involved in COVID-19 testing and care.