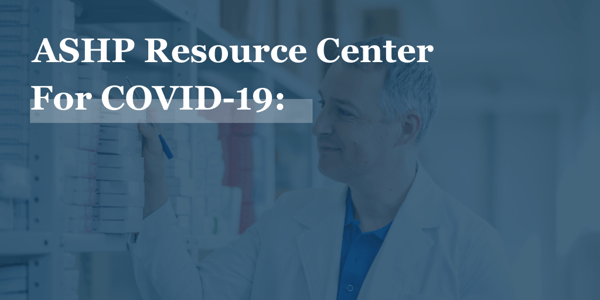 Pharmacists play a key role in the health and safety of the patient as well as infection control. The American Society of Healthcare Pharmacists (ASHP) has created an in-depth resource center for all things Coronavirus Disease 2019 (COVID-19). The organization is closely monitoring developments related to the disease which originated in Wuhan, China.
The newest tools in the resource center include:
Assessment of Evidence for COVID-19 Related Treatments
Pharmacy Organizations Joint Policy Recommendations to Combat the COVID-19 Pandemic
COVID-19 Pandemic Assessment Tool for Health-System Pharmacy Department
Pharmacy Organizations Ask Senate Leaders to Include Pharmacists and Medically Under-Served Areas Enhancement Act in COVID-19 Legislation
The resource center also provides information on the status of medical supplies, infection prevention, drug shortages, advocacy, treatment and supportive care, sterile compounding, use of face masks and respirators, government agencies, state resources, World Health Organization resources, and more.
ASHP has also expanded online resources to everyone, regardless if they are a member or not. These online Coronavirus 2019 (COVID-19) resources can help provide guidance and structure to healthcare pharmacy during the pandemic.
ASHP Asks to Include Pharmacists in COVID-19 Response
ASHP is also asking pharmacists to ask their legislators to include pharmacists in COVID-19 responses. Pharmacy needs Congress to include language from "the Pharmacy and Medically Under-Served Areas Enhancement Act" in any emergency legislation as a response to the current crisis. The language will allow pharmacists to serve patients at this critical time.
OTHER BLOGS YOU MIGHT BE INTERESTED IN...

You can access pharmacy related COVID-19 information, downloadable tools, and research and reports by visiting the ASHP Coronavirus 2019 Resource Center via the link below.