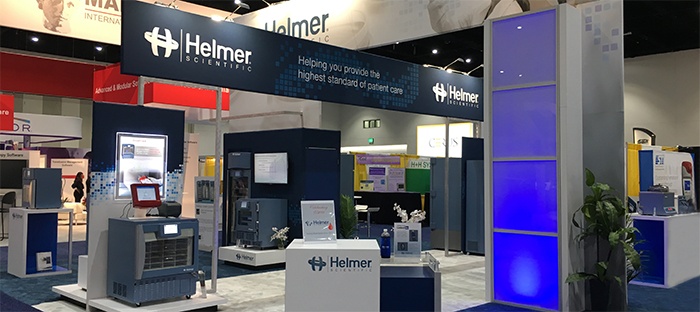 At Helmer Scientific, we are looking forward to our 40th consecutive year of exhibiting at the AABB Annual Meeting and introducing Pro Line Platelet Storage and GX Solutions Refrigerators. This year's meeting will be held in San Antonio, Texas, October 19 – 22, 2019. Come and see us at Booth #908!
The AABB Annual Meeting is the premier event for healthcare professionals in the fields of transfusion medicine and cellular therapy to learn about cutting-edge research, keep up with the latest technological advances, and network with colleagues from around the world. AABB is committed to providing continuing education that focuses on optimizing patient and donor care and safety.
Helmer Scientific recently launched Pro Line Countertop Platelet Storage Systems and GX Solutions Refrigerators, both of which will be displayed in our booth. Attendees will also have hands-on access to Plasma and Ultra-Low Freezers, Plasma Thawing Systems, and the UltraCW® II Automatic Cell Washer.
In addition, the BloodTrack® HaemoBank™ iBX020 will be shown. The HaemoBank™ blood storage system is a just-in-time blood allocation solution that acts as a 24/7 virtual, automated blood bank, helping to reduce blood bank workload, safely improve access, and reduce waste.
Helmer Scientific designs, manufactures, and distributes medical-grade cold-storage and processing equipment to help our customers deliver the highest levels of patient care. With more than 40 years of experience, Helmer supports customers in blood centers and hospital blood banks in 125 countries.
Annual Meeting Exhibit Hours are: Saturday, October 19, 5:30 pm – 7:30 pm; Sunday, October 20, 10:00 am – 4:30 pm; Monday, October 21, 10:00 am – 4:30 pm.
If you will be at the AABB Annual Meeting we look forward to seeing you at Booth #908!
Other Blogs You Might Be Interested In...