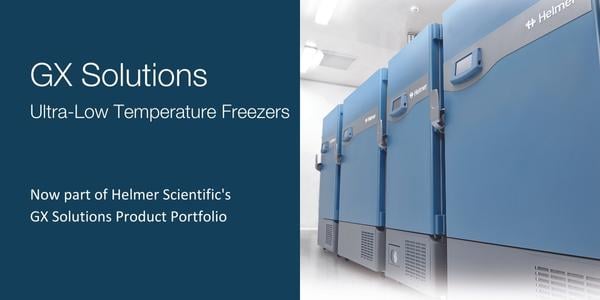 Noblesville, Ind., Nov. 2023 — Helmer Scientific, part of Trane Technologies Life Science Solutions Business and leading manufacturer of cold storage products and processing equipment, has announced the completion of the GX Solutions Cold Storage product line expansion with the launch of GX Solutions Ultra Low Temperature Freezers.
GX Solutions Cold Storage Systems now include refrigerators, freezers, pass-thru refrigerators, and ultra-low freezers. They are uniquely suited to offer healthcare providers optimized temperature, noise, and energy management while using environmentally friendly natural refrigerants that support sustainability initiatives.
GX Solutions ULT freezers are designed for the unique needs of the healthcare environment for the safe and secure short- or long-term storage of vaccines and temperature-sensitive biological samples, including viruses, sera, and proteins. GX Solutions ULT freezers are available in 18 and 26 cubic feet models and feature Helmer's OptiCool™ cooling technology to achieve optimized performance.
The OptiCool™ cooling system in GX Solutions ULT freezers combines dual variable capacity compressors (VCC) and natural hydrocarbon (HC) refrigerants in a cascade refrigeration system to create a system that delivers optimized temperature performance and energy efficiency. They are designed to operate at temperatures down to -86°C and at higher ambient temperatures, safeguarding patient samples and ensuring vaccines remain efficacious.
GX Solutions OptiCool™ technology lowers energy consumption, reducing operating costs and decreasing the unit's carbon footprint, supporting environmental sustainability standards. The OptiCool™ system also reduces noise, creating a more productive workplace for staff and healthcare providers.
A unique Heat Barrier System™ keeps heat out and reduces frost. The system includes four levels of containment: a fortified outer door with multi-bulb gaskets, insulated and reinforced inner doors with dual-blade gaskets, a hot gas loop and advanced composite panels in the cabinet frame, and premium insulation.
GX Solutions ULT freezers optimized refrigeration system protects the compressor by providing maximum heat exchange and optimizing oil management. This reduces stress on the compressor and increases the reliability of the freezer, while reducing the risk of oil logging.
"We are excited to complete the conversion of GX Solutions Cold Storage equipment across our entire portfolio," said Ben Greenfield, Marketing Leader, Life Science Solutions. "Launching new and innovative products is part of our commitment to sustainability and serving our customers."
OTHER BLOGS YOU MAY BE INTERESTED IN...
The GX Solutions Portfolio of medical-grade cold storage products is designed to meet the unique demands required in the clinical laboratory and pharmacy settings. They are now available in pharmacy, laboratory, and blood bank refrigerator models; laboratory and plasma freezer models; pharmacy and blood bank pass-thru refrigerator models; and ultra-low freezer models.