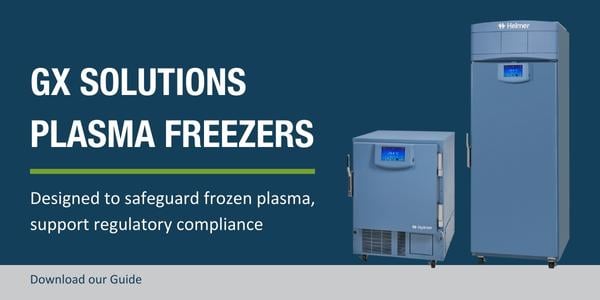 Plasma transfusions play a critical role in treating certain conditions. For example, severe trauma, shock, or burns can cause loss of blood volume and deplete many important electrolytes. Plasma transfusions help restore the patient's blood pressure and volume status, along with improving electrolyte levels.
In addition, people with liver disease or clotting factor deficiencies may not be able to form blood clots normally. Whenever someone has a cut or injury, clotting factors ensure they do not lose too much blood. Plasma transfusions are essential to support the patient's clotting ability and stop excessive bleeding.
Blood Storage Compliance
After donated plasma is collected and processed, it must be stored at frozen temperatures to preserve clotting factors and optimize shelf life. AABB Standards specify plasma components should be stored at -18°C or colder. When stored within this temperature range, the expiration date is 12 months from collection.
GX Solutions Plasma Freezers from Helmer Scientific provide the reliable temperature-controlled storage blood banks need for safeguarding critical plasma components. Tight uniformity provides confidence plasma products are stored at the right temperature regardless of where they are placed within the storage space. Powerful forced-air circulation ensures quick temperature recovery after door openings.
Not only are plasma freezers from Helmer Scientific designed to support facilities' efforts to follow standards, they have also been recognized by the AABB Standards-Compliant Products Program. This program provides assurance that products for the blood community are in compliance with standards.
Products that achieve AABB's Standards-Compliant Product recognition have been thoroughly reviewed by AABB and have been confirmed as adhering to the AABB Standards related to equipment, process control, and document control.
Environmental Sustainability
In addition to supporting facilities' efforts to comply with regulations for blood storage, GX solutions plasma freezers are aligned with evolving environmental regulations to address climate change. They support facility sustainability initiatives, while at the same time meeting the strict performance requirements of the blood bank.
Conventional plasma freezers use HFC refrigerants. Unfortunately, HFCs are a major contributor to global warming. Multiple regulatory and legislative efforts call for phasing down the production and consumption of HFCs.
Rather than using HFCs, GX Solutions Plasma Freezers utilize natural refrigerants that have no impact on ozone depletion and extremely low global warming potential (GWP). GX Solutions freezers also reduce energy use. They are ENERGY STAR® certified and are 35-45 percent more energy efficient than conventional medical-grade freezers.
Selecting cold storage devices that use energy efficient technology and low GWP refrigerants will help reduce a facility's environmental impact. Helmer Scientific provides professional medical-grade equipment that supports sustainability and supports blood bank regulatory compliance.
OTHER BLOGS YOU MAY BE INTERESTED IN...
To learn more about freezers designed for plasma storage, review our Best Practices Guide for Selecting Plasma Freezers.