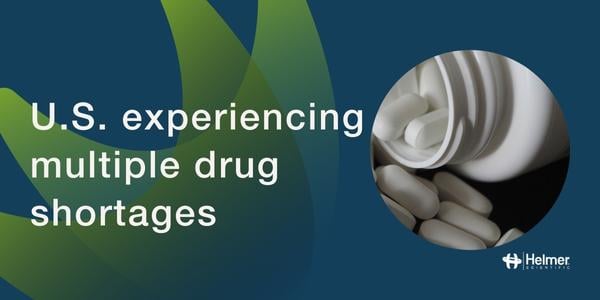 As of January 2023, there are 230 entries on the ASHP's Current Drug Shortage Bulletin. While drug shortages are not a new phenomenon, visibility into current shortages is increased because of the drugs on the list and the populations most directly impacted.
Since the addition of amoxicillin and ibuprofen to the shortage list in late November 2022, children have faced challenges accessing medications used to treat and manage common seasonal illnesses and the secondary bacterial infections they commonly cause. These shortages paired with increased, and in some cases record, rates of COVID-19, seasonal influenza, and respiratory syncytial virus (RSV) infection put patients at risk and stress health system infrastructures.
There are more than 35 studies that highlight how medication shortages negatively impact patient outcomes. These reports outline longer wait times for treatment, the need for longer hospitalization or supervision by medical professionals, adverse reactions to substitute treatments, and in some cases preventable deaths, all of which have been attributed to medication shortages.
There is a financial impact to medication shortages as well. On top of higher prices paid for medications in short supply, a Vizient report states each year, American hospitals spend an additional $359 million in labor and require 8.6 million additional workforce hours to manage medication shortages. This equates to roughly 24,000 workforce hours and $1 million per day spent nationally by healthcare systems to mitigate the impact of drug shortages.
Management of drug shortages within health systems and in retail settings often falls to pharmacists, adding to an already heavy workload. While pharmacists are not responsible for causing drug shortages, they may be able to help ensure as many patients as possible have access to the medications they need by managing inventory and reducing waste.
Ensuring medications and vaccines are stored properly reduces the risk of waste due to mishandling. This includes using purpose-built medical grade refrigerators and freezers when cold storage is required.
Medical-grade refrigerators and freezers provide microprocessor-controlled temperature management and deliver the performance necessary to safely store pharmaceuticals. Many of these units also offer advanced monitoring and alarming features to alert pharmacists if a unit falls out of temperature range.
This visibility reduces the risk of inventory loss due to unaddressed temperature excursions. In a recent report, IQVIA estimates the pharmaceutical industry loses $35 billion worth of inventory annually due to failures in cold-chain equipment. This accounts for roughly 30 percent of all losses of temperature-sensitive pharmaceuticals.
Other Blogs You Might Be Interested In...
When choosing pharmacy refrigerators and freezers, several factors should be taken into consideration. The units must provide the necessary temperature performance and feature set required for pharmaceutical storage. If vaccines will be stored in the unit, it should be certified to the NSF/ANSI 456 Vaccine Storage Standard.
Finally, pharmacy refrigerators and freezers should be built to last. At Helmer, our GX Solutions cold-storage products have undergone thorough Accelerated Life Testing (ALT) to ensure their design can withstand the rigors of daily use in a busy pharmacy through a 10-year life.
Helmer Scientific provides a full portfolio of pharmacy refrigerators and freezers designed to meet the performance demands and feature requirements and reduce the risk of medication loss due to temperature excursion or equipment failure.