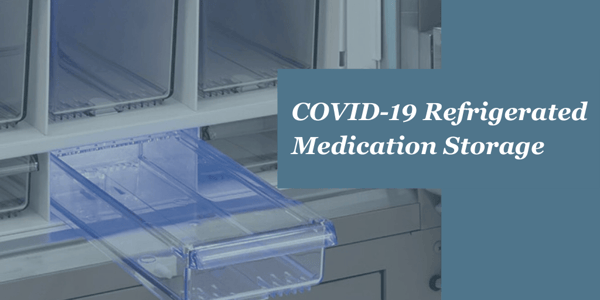 The COVID-19 pandemic has created complex, unique challenges for refrigerated medication storage. The pandemic has put stress on the drug inventory leading to conservation efforts and in some cases drug shortages. Inventory management has become crucial and many supportive drugs being used must be stored at refrigerated temperatures making management even more challenging.
Some of the challenges include:
Inventory Management & Control
Need for additional refrigerators for medication storage
Reallocation of drugs throughout the hospital
Re-purposing automated dispensing cabinets to serve COVID-19 patients
New units being created to accommodate COVID-19 patients
Batching of IV drips vs. just in time delivery
Safeguards to treat COVID-19 drugs like controlled substances
Management of clinical trial drugs
Daily inventory counts and reports
The American Society of Health System Pharmacists (ASHP) has a valuable resource titled, "Assessment of Evidence for COVID-19-Related Treatments," which they continue to update regularly. This table includes over 50 drugs that have been used around the globe in the fight against COVID-19 with various self-reported results.
This list includes multiple antiviral agents and supporting agents. Various antibiotics, antivirals, neuromuscular blockers, sedatives, vitamins, biologics, and inhibitors require storage at refrigerated temperatures ((36°-46°F) (2°-8°C)). Hard hit areas will need additional refrigerated drug storage capacity to accommodate the influx of these medications.
Security and inventory control of these drugs is crucial. With high demand, it is not ideal to short date these drugs in order to securely store them at ambient temperature inside an automated dispensing cabinet. Pharmacists need to prolong shelf life as much as possible.
Drugs can be stored under refrigeration without compromising security or inventory control capabilities. Many medical-grade refrigerators provide advanced access control and/or integration with leading ADC refrigerators via a special lock. Moreover, the industry-first BD Pyxis™ ES Refrigerator with Helmer Access Technology features precise temperature management and secure locking bins accessed only via the BD Pyxis™ MedStation™ ES. This enhances care by supporting medication safety, clinical workflow efficiency and regulatory compliance, while helping to reduce waste and mitigate the risk of diversion of refrigerated medications. All of which is critical when managing COVID-19 drug inventory.
OTHER BLOGS YOU MIGHT BE INTERESTED IN...
This global pandemic has reestablished the importance of secure, refrigerated drug storage in the hospital pharmacy as well as on patient floors. Decentralizing drug storage while maintaining control and safety is key for efficient and effective patient care. To learn more about our professional, medical-grade pharmacy cold storage solutions, head to the link below.