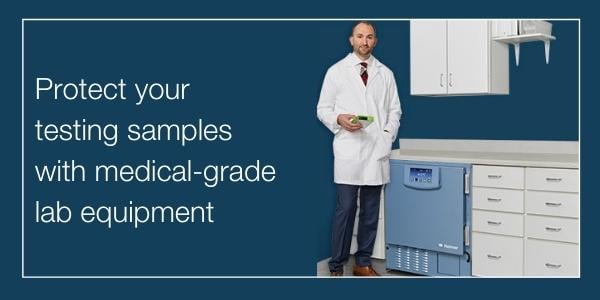 Since the beginning of the COVID-19 pandemic, clinical laboratories have had to ramp up testing for SARS-CoV-2. In addition, this year labs have had to prepare for a potential "perfect storm" of testing for influenza A, influenza B, and RSV along with COVID-19.
Clinical Lab Products (CLP) magazine published an article discussing the possibility of a COVID-flu "twindemic" or even a triple COVID-flu-RSV season. From fall 2020 until summer 2021, flu cases were dramatically down compared to prior years. However, the 2021-2022 flu season could be different. Lack of exposure to influenza last season may mean waning immunity, and as people are gathering again, the potential for transmission of respiratory viruses increases.
Experts have indicated it is likely flu is coming back, but they are unsure how bad this season could become.1 Currently, the CDC reports influenza activity remains low nationally but continues to increase, and the relative contribution of flu to respiratory illness varies by location.
Considering the potential testing needs for multiple respiratory viruses, labs are having to be proactive as they prepare. This may involve evaluating tests that can differentiate between viruses and considering implementation of multiplex testing for a combination of respiratory pathogens.
Clinical labs are having to face fluctuating demand for different types of testing along with staff shortages and supply chain issues. Unreliable or poorly performing cold storage equipment is the last thing a lab manager should have to worry about. Fortunately, there are cold storage solutions that maintain precise temperature ranges, perform reliably, and even consume less energy than conventional models.
GX Solutions professional medical-grade refrigerators and freezers provide reliable temperature-controlled storage for patient specimens, reagents, and controls. Powered by OptiCool™ technology, our next generation models pair variable capacity compressors with natural hydrocarbon refrigerants, delivering a reliable storage option to safeguard your stored materials.
Only professional medical-grade laboratory freezers deliver optimized control in three important areas:
Temperature management to safeguard stored products, including excellent uniformity, recovery, and stability
Noise management to provide a more comfortable working environment for staff
Energy management to reduce operating costs and support facility sustainability initiatives
Other Blogs You Might Be Interested In...
Helmer Scientific supports clinical laboratories, the patients they serve, and their efforts to ensure accurate test results. We would like to express our gratitude to all staff involved in the diagnostic testing that is essential for treating patients and saving lives. We are here to help you properly store your critical materials.
1Doheny, Kathleen, "This Year's Flu Season: Repeat of Last Year or a 'Twindemic?'," WebMD (accessed 12/15/2021)