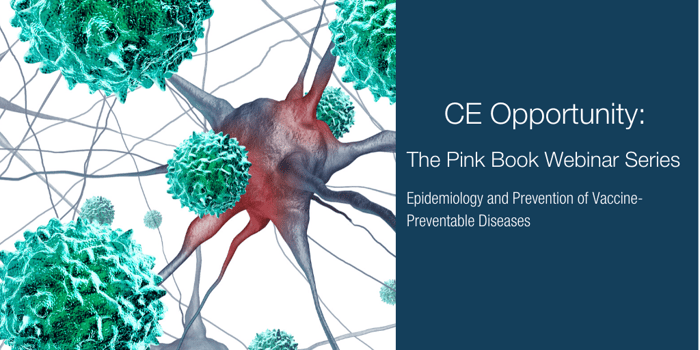 Over the Course of 2019, the CDC provided a 15-part webinar series with an overview of the principles of vaccination, general recommendations, immunization strategies for providers, and specific information about vaccine-preventable diseases and the vaccines that prevent them.
Each one-hour webinar explores a chapter from the 13th edition of "Epidemiology and Prevention of Vaccine-Preventable Diseases," also known as "The Pink Book." Continuing education (CE) is still available for each event until June 1st, 2020.
The 2019 Webinars Include the Following Topics:
Principles of Vaccination
General Best Practice Guidelines, Part 1
June 19 General Best Practice Guidelines, Part 2, and Vaccine Safety
Immunization Strategies
Vaccine Storage and Handling and Vaccine Administration
DTaP/Tdap
Rotavirus and Hepatitis A
Meningococcal Vaccines
Measles, Mumps, Rubella
Polio and Hib
Varicella and Zoster
Hepatitis B
HPV
Pneumococcal Vaccines
Influenza
Other Blogs You Might Be Interested In...
Each educational webinar is approximately one hour long. The content is designed for Administrators, CHES certified health educators, Physicians, Epidemiologists, LPNs, LVNs, Medical assistants, students, NPs, nurse technicians, other health educators, Pharmacists, PAs, program managers and RNs. Participants should have a basic educational background in science including general knowledge in the subject areas of biology, immunization and vaccine-preventable diseases. You can download and watch the recording of the original event and submit your CE upon completion. You can access all 15 recordings at the link below.