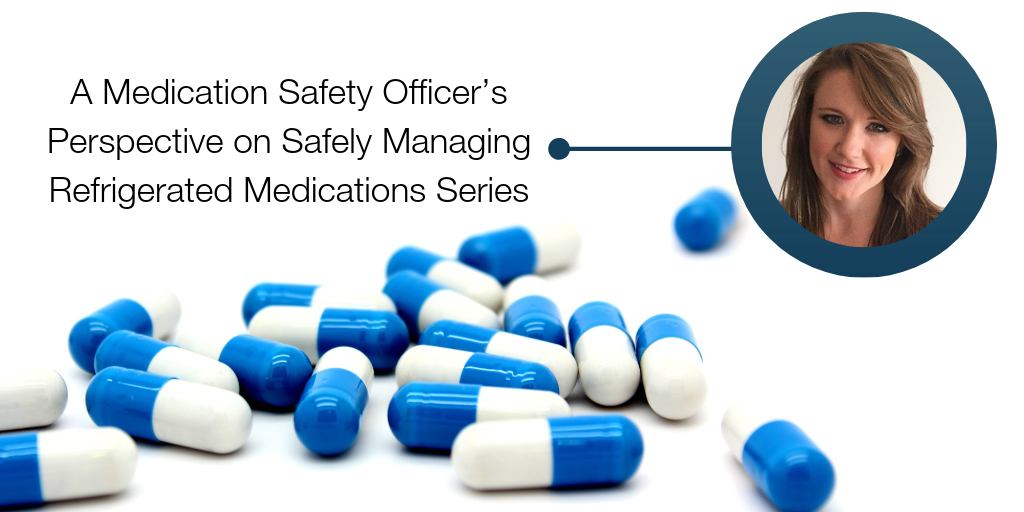 This week, we are continuing our Medication Safety Officer blog series on managing refrigerated medications. If you missed either of the first two weeks you can read blog one here and blog two here. Each week, Network Medication Safety Officer, Jessalynn Henney, PharmD, will be answering questions related to the safety and security of storing and handling refrigerated medications. This week, we are discussing Look Alike Sound Alike (LASA) medications and how to reduce risk of medication errors related to them.
Could you please explain the difference between LASA medications and look alike packaging, and provide a few examples of potential medication errors that could be seen in practice? 6,7
This terminology has been commonly noted to be confused. LASA medications have names that are spelled or sound similar when said out loud to other medication names. These medications have the potential to be confused, which may lead to an error. In February 2019, ISMP published an updated list providing examples of these medications and TALLman lettering recommendations. TALLman lettering (i.e. capitalization of certain letters within a medication name) is a mitigation strategy to help highlight certain sections of the drug name and draw attention to the dissimilarities in similar medication names. This is utilized for LASA medications to allow them to become more distinguishable and to help prevent medication variances affiliated with name confusion or mix-ups.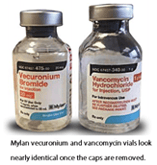 Medications that are visually similar in physical appearance or packaging, regardless of name, are considered look alike packaging. ISMP has noted several reported incidents where vials, with both the cap on or off, have been noted to be interchanged due to similar packaging. One specific example I recommend to review at your own site is where vecuronium and vancomycin are stored within the pharmacy and patient care units. As you can see with this picture, these products with names starting with the same letter could be easily confused and cause significant patient harm.
How can facilities reduce risk of errors affiliated with medications considered LASA or look like packaging? 5, 8
My facility just completed a project where all High Alert and LASA medications were reviewed to ensure a mitigation strategy was in place for the dispensing step of the medication use process.
A few examples of our mitigation strategies included:
Storing the product only within the pharmacy and dispensing specific patient doses when requested (example: U500 insulin)
Segregating products by utilizing discrete, individual locations (example: locked lidded bins or dedicating an entire drawer in the ADC to store the product)
Strategically placing products when needing to place in a matrix or open access area, such as the refrigerator, and standardizing this location in all areas (example: lidded bin storing succinylcholine vials is always placed on the top shelf right hand side of the refrigerator)
This project helped us to be compliant with Core Safety Process #4 within the ISMP Guidelines for the Safe Use of Automated Dispensing Cabinets.
Did you know a study published in 2015 noted approximately 30% of medication errors were due to look-alike packaging labeling?
With managing shortages, this factor has become even more prominent within daily workflow. While not always feasible, it is highly recommended to buy similar looking products from different manufacturers to help provided distinction. To proactively reduce the risk of errors affiliated with look alike packaging, it is important to designate different locations (example: separate shelf or refrigerator unit) for these products within the pharmacy and patient care units.
Other Blogs You Might Be Interested In...
Citations:
Institute for Safe Medication Practices. Guidelines for the Safe Use of Automated Dispensing Cabinets. 2019 Available at: https://www.ismp.org/resources/guidelines-safe-use-automated-dispensing-cabinets. Accessed on June 13th, 2019.
https://www.ismp.org/alerts/verapamil-naloxone-look-alike-vials (ISMP – published April 24th, 2018)
https://www.ismp.org/recommendations/confused-drug-names-list
Schnoor J et al. Case report of a medication error by look-alike packaging: a classic surrogate marker of an unsafe system. Patient Saf Surg 2015;9(12):1-5.