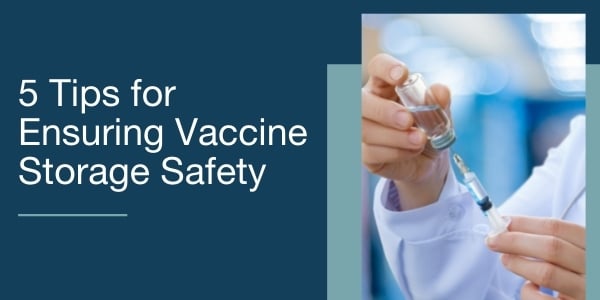 Ensuring vaccines are stored in accordance with manufactures' recommendations and in compliance with facility, state and local guidelines are important to maintaining a safe vaccine program. Protecting vaccines from improper storage can help prevent ineffective or destroyed vaccines and help promote patient confidence in vaccines.

While there are a variety of facility and state requirements for vaccine programs, most facilities and other 3rd party audit agencies follow the CDC's Vaccine Storage and Handling Toolkit guidelines for vaccine storage. Additionally, a new standard for vaccine storage, NSF / ANSI 456, was recently published and outlines performance criteria for vaccine storage units. This new standard will enable vaccine storage manufacturers to test and certify units to meet the NSF / ANSI 456 Vaccine Storage standard, providing additional confidence among vaccine providers and clinicians.

Here are 5 tips for ensuring your facility is storing vaccines safely:
The CDC recommends the use of purpose-built or medical-grade units, designed to store vaccines and medications. Dorm style or combination units are prohibited. Using a medical-grade storage unit with fan-forced air circulation helps promote temperature uniformity throughout the unit.
The CDC also recommends utilizing a digital data logger (DDL) with a valid certificate of calibration to monitor the temperature of the unit. These DDLs should include out-of-range alarms, low-battery indicators, and a current, minimum, and maximum temperature display.
Routine maintenance and testing of vaccine storage units ensures vaccine storage and related equipment functions at maximum efficiency.
Select a vaccine storage unit that has been tested and certified to meet the new NSF / ANSI 456 Vaccine Storage standard. This new standard is designed to ensure vaccine storage units can maintain temperature uniformity and recovery under various load conditions and door openings.
In addition to CDC guidelines around DDL certificates of calibration, the new NSF / ANSI 456 Vaccine Storage standard will require certified units have a certificate of calibration for the unit. Having both will help facilities to meet compliance and audit requirements.
OTHER BLOGS YOU MAY BE INTERESTED IN...
To learn more about our line of GX Solutions vaccine storage units and how Helmer can support your vaccine storage needs, download our Vaccine Storage Solutions Guide.