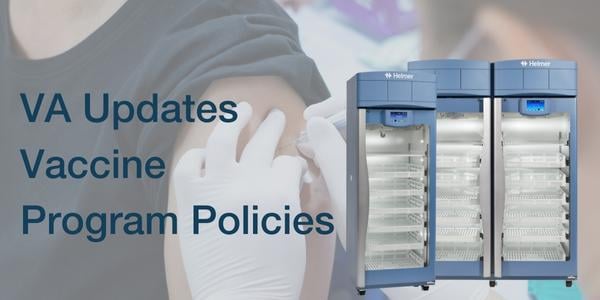 Through VA Directive 1108.07, the use of dormitory-style, bar-style, and combined refrigerator/freezer cold storage units for vaccine storage has been banned in VA medical facilities.
The directive was published by published by the United States Department of Health and Human Services and the Veterans Health Administration in late 2022 and is currently effective.
Provisions included in the directive outline requirements for equipment selection in-line with best practices set forth by the CDC's Vaccine Storage and Handling Toolkit.
This includes storing vaccines in purpose-built refrigerators and freezers with enhanced temperature monitoring, alarming, and performance features designed to reduce the risk of temperature excursion and alert staff when there are issues.
It is also recommended VA facilities implement equipment that includes digital data loggers (DDLs) to maintain a record of temperature performance of vaccine refrigerators and freezers over time.
VA Directive 1108.07 was developed because of a recent audit by the Office of Management and Budget (OMB). It states in fiscal year 2021, the VA spent more than $1.4 billion on refrigerated medications and vaccines.
During that same year, VA facilities reported losses of $1.7 million of refrigerated medications and vaccines due to cold storage equipment failure. More than 55 percent of the audited facilities reported at least one instance of refrigerated pharmaceutical loss due to equipment failure.
Beyond requiring facilities to invest in equipment specifically designed to store vaccines and pharmaceuticals, the new directive also outlines requirements for overall management of cold storage equipment used in the pharmacy.
The OMB audit said nearly 70 percent of audited facilities were not in compliance with routine preventative maintenance schedules for the refrigerators and freezers used to store pharmaceuticals.
As a result, facilities are now required to have local medical center policies aligned with Health and Human Services (HHS) and CDC recommendations.
Other Blogs You Might Be Interested In...
Vaccines are sensitive to temperature excursions. Exposure to excessive heat or cold may erode, or completely destroy, a vaccine's ability to provide protection against disease.
The use of ineffective vaccines creates a substantial public safety risk and generates significant administrative challenges as re-vaccination may be required, and it has financial ramifications as well.
Helmer Scientific manufactures purpose-built refrigerators and freezers specifically designed to store temperature-sensitive vaccines. Vaccine refrigerators manufactured by Helmer are certified to the NSF/ANSI 456 Vaccine Storage Standard.
The NSF/ANSI 456 Vaccine Storage Standard is the first, and currently only, recognized standard that certifies cold storage equipment used to store vaccines can meet the unique and rigorous performance requirements necessary to protect vaccine inventory under real-world clinical conditions.
We have a white paper outlining the performance differences of purpose-built vaccine refrigerators and freezers based on the NSF standard. It provides insight into the performance required to meet the standard and safeguard vaccine inventory.