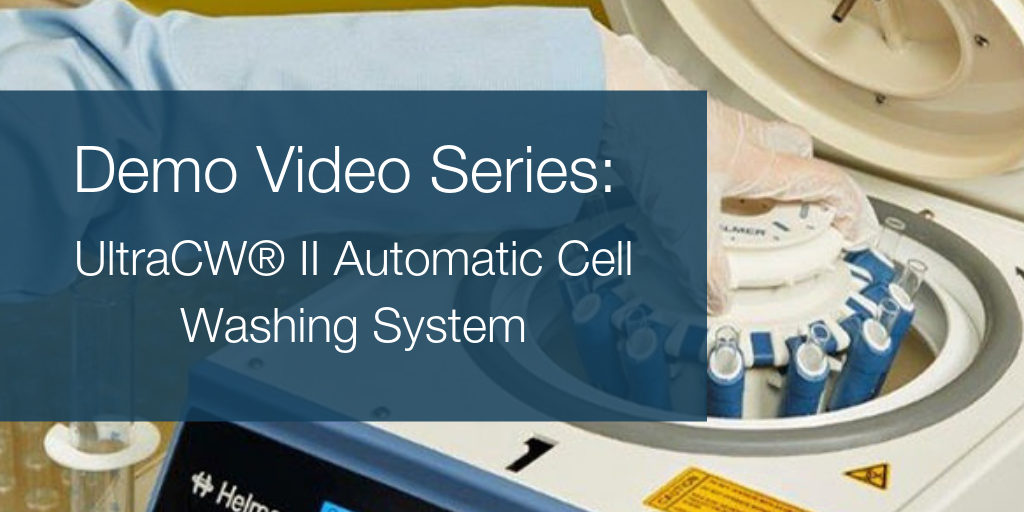 The UltraCW® II Automatic Cell Washing System from Helmer Scientific offers exceptional performance and consistent, reproducible results. In addition, it is very easy to install, operate, and maintain. To make using the UltraCW® II even easier, we have developed a series of demonstration videos that walk you through various processes step-by-step.
Easy Set Up
Unpacking and setting up the UltraCW® II is an easy process. This video demonstrates exactly what you need to do for a smooth and efficient installation. It also illustrates the benefits of being able to place the saline below (as well as above) the unit.
Pre-Set Programs
For our users' convenience, the UltraCW® II offers a selection of pre-installed programs. These include four wash programs, a spin program, as well as Refill Pump and a Flush program for cleaning.
Intuitive Programming
The UltraCW® II takes high performance automated cell washing to the next level with intuitive programming. Users can quickly and easily create programs. In addition, a check step is available, which makes it easy to run wash cycles, add reagents, and then perform a quick spin – all in one in-line process.
System Settings and Calibration
With the UltraCW® II it is very convenient to change system settings as well as to check the calibration and adjust if needed. Onscreen digital calibration offers easy and accurate control of saline volumes and eliminates the inconvenience associated with manual calibration.
Product Cleaning
The UltraCW® II offers a convenient cleaning procedure. The simple procedure uses bleach solution and distilled or deionized water, as well as the pre-installed Flush program. The Flush program automatically cleans the chamber as well as the saline inlet and outlet, eliminating the need to do manual cleaning and reducing downtime.
Helmer Scientific has been serving the blood bank community for more than 40 years. We are here to support your efforts to properly store and process your blood products. If you have additional questions about your cell washer, the Helmer Technical Service team is available to help. Contact us at techservice@helmerinc.com or 800-743-5637. Or contact our sales team for more information on the UltraCW® II.
Other Blogs You Might Be Interested In…