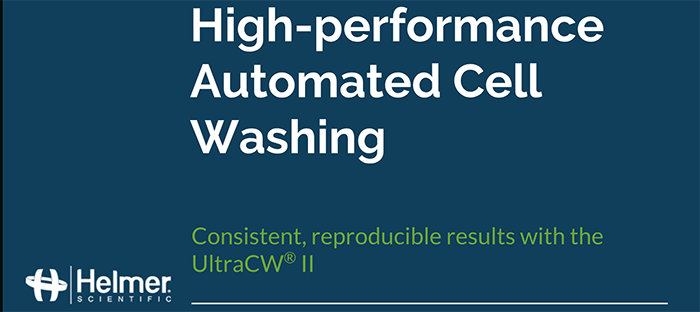 The UltraCW® II Automatic Cell Washing System from Helmer Scientific automates the manual steps associated with pretransfusion tube testing. Designed to provide precise, consistent, and reproducible cell washing results, it also enables users to streamline workflows for more efficient processing.

The UltraCW® II has an intuitive touchscreen user interface that includes pre-set programs and is also fully programmable. Programming capabilities include the typical steps associated with automatic cell washing (Fill, Spin, Decant, and Agitate). In addition to these processes, Loop and Check steps can also be incorporated into programs. The Loop step saves time by enabling previously programmed processes to run in multiple iterations. The Check step pauses the program and opens the lid of the centrifuge, making it convenient to perform wash cycles, add reagents, and then do a quick spin at the end of the program – all in one streamlined process.

To show you all the benefits offered by the UltraCW® II Automatic Cell Washing System, we have developed an innovative and informative slide deck. Click the button below to learn more about the UltraCW® II.