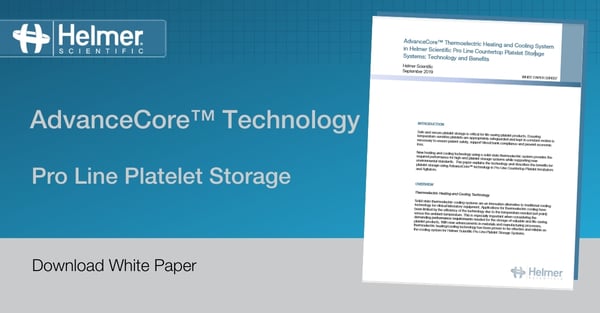 Across the country, blood collection centers are urging healthy individuals to donate platelets. While demand for this life-saving therapy is high, a limited shelf life and low donor turnout have meant supply is scarce. Recent issues with shipping delays as well as canceled or delayed flights have presented additional challenges.
Because platelets have such a short shelf life, keeping hospitals stocked with enough inventory is a constant balancing act. Not only does the shortage have an impact on blood centers and hospitals, but it can also affect treatment for cancer patients. Cancer can cause a patient to have a low platelet count, as can treatments such as chemotherapy. Since platelets are essential to the clotting process, platelet therapy is critical to prevent bleeding in these patients.
Not only are platelet products in short supply, but they must also be stored within a precise temperature range and with continuous agitation. It is essential for facilities to have a reliable platelet storage system users can depend on to meet their requirements.
Pro Line Countertop Platelet Storage Systems from Helmer Scientific utilize AdvanceCore™ technology, an innovative solid-state heating and cooling system. Incorporated into the design of Pro Line platelet incubators, AdvanceCore™ provides dependable operation along with efficient, sustainable performance.
AdvanceCore™ utilizes a Thermoelectric Module (TEM), an innovative alternative to traditional cooling and heating methods. The TEM has variable capacity Peltier heat pumps that cool and heat only as needed to achieve and maintain the optimal temperature range. Temperature uniformity of +/1° C is always maintained, ensuring the safe storage of platelet products.
In addition to precise temperature uniformity, benefits of Pro Line platelet storage with AdvanceCore™ include the following:
Energy Efficiency
Since AdvanceCore™ heats and cools only as needed, Pro Line incubators are at least 80 percent more energy efficient than traditional platelet incubators.
Sustainability
Reducing the use of HFC refrigerants targeted under multiple environmental standards supports facility sustainability initiatives.
Noise Reduction
Low sound levels help reduce noise, creating a quieter workplace for blood bank staff.
Reliability
Pro Line incubators and agitators are designed and tested for the long-term reliability that is critically important for platelet storage.
Other Blogs You Might Be Interested In...
Helmer Scientific supports blood centers and hospitals, the patients they serve, and their efforts to keep the blood supply safe. We would like to express our gratitude to all staff involved in collecting, processing, and transfusing blood therapies to treat patients and save lives. We are here to help you properly store and monitor your blood products.
To learn more about AdvanceCore™ and our Pro Line Countertop Platelet Storage Systems, read our white paper.