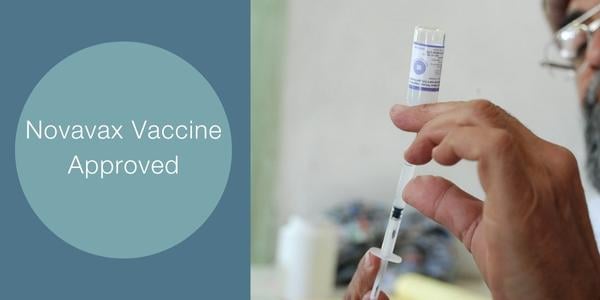 In the midst of a summer surge of COVID-19 cases in the United States, the FDA has approved the vaccine developed by Novavax for emergency use. The CDC has endorsed the use of this vaccine as a primary dose for people older than 18.
The approval and endorsement of the Novavax vaccine represents the fourth COVID-19 vaccine approved for use in the United States and the first protein adjuvant-based vaccine approved for immunization. The Novavax vaccine contains an inactivated nanoparticle of the COVID-19 spike protein which triggers an immune response in individuals receiving the vaccine.
The technology used in the Novavax vaccine is a common and well-tested vehicle used for vaccination. The hepatitis-B, HPV, and diphtheria vaccines and tetanus shots are all examples of vaccines that use protein-based technology to support immunity against a wide range of devastating diseases.
Public health officials hope the addition of a COVID-19 vaccine using this traditional technology results in an increase in vaccination rates among people who were hesitant or medically unable to receive an mRNA-based vaccine such as those developed by Moderna and Pfizer and authorized for use in the United States nearly 18 months ago.
Another significant advantage of protein adjuvant-based vaccines is the ability to transport and store doses using the standard vaccine cold chain instead of maintaining ultra-low storage requirements needed for mRNA-based vaccines. The Novavax vaccine is a refrigerated vaccine that requires storage between 2° and 8°C (36° and 46°F). This makes manufacture, transport, and storage of these vaccines easier, especially in areas where access to ultra-low temperature cold chain technology is limited.
Other Blogs You Might Be Interested In...
Like its mRNA counterparts, the Novavax vaccine is administered in two doses given 21 days apart. Currently the vaccine is approved only for use as a primary vaccine for people older than 18. Novavax and the FDA are in the process of reviewing the safety and efficacy of the vaccine in people aged 12-17, as well as for use as a booster for individuals who received an mRNA vaccine as their primary immunization.
Helmer Scientific offers a full range of vaccine refrigerators and freezers specifically designed for the storage of vaccines. Our solutions provide safe and effective vaccine storage and help meet CDC and NSF/ANSI 456 Vaccine Storage Standard.