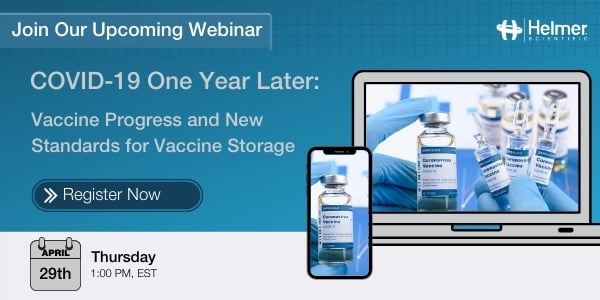 A little over a year since the COVID-19 pandemic began, the COVID-19 vaccination rollout is well underway. With 3 vaccines available, most states are now offering vaccines to residents 16 years and older, and over 47 million Americans have completed their vaccine series.
Vaccination remains a crucial component to ending this pandemic and achieving herd immunity. Vaccine distribution is expected to continue through the summer and into the fall. Demand for reliable vaccine storage will continue and could even increase in the fall with the need to store both COVID-19 and flu vaccines.
Join us as Dr. L.J. Tan from the Immunization Action Coalition (IAC) discusses vaccine rollout progress, best practices for cold storage and upcoming new standards for vaccine storage.
COVID-19 One Year Later: Vaccine Progress and New Standards for Vaccine Storage
Date: Thursday, April 29, 2021
Time: 1:00 PM (EST) / 10:00 AM (PST)
Speakers: Dr. L.J. Tan, MS, PhD, Chief Strategy Officer of the Immunization Action Coalition (IAC) and Co-Chair of the National Adult and Influenza Immunization Summit. Helmer's Dennis Smith, VP of Research and Development will also be joining to discuss upcoming NSF standards for vaccine storage.
This webinar will cover the following topics:
Current state of COVID-19 vaccine rollout
Importance of cold storage
Standards for vaccine storage
Looking ahead: 2021 flu season and potential COVID-19 boosters
Register now to join us on April 29th!
OTHER BLOGS YOU MIGHT BE INTERESTED IN...
For more details on the webinar and to register, click the button below. We look forward to the event and hope to see you there.