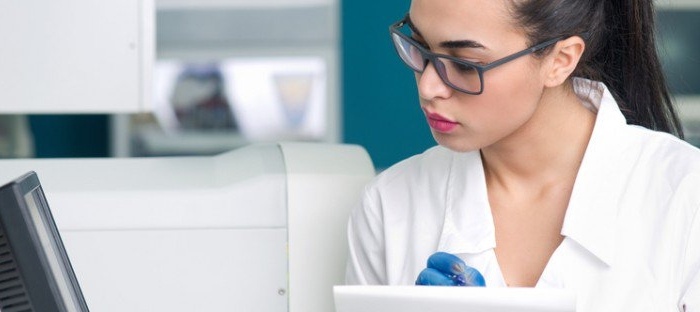 ---
A few months ago, Pharmacy Purchasing & Products released their 2018 State of Pharmacy Compounding. The publication summarizes survey data from hospitals of various sizes and demographics across the United States. Data showed that there is a going to be a strong growth in compounding volume over the next three years. With the amount of compounding increasing, cleanroom renovations/build-outs are also expected to increase. Moreover, the pace of cleanroom renovations are projected to increase by 69% when it comes to cleanrooms that have not been renovated in the last 5 years (PP&P).
Self-reported USP <797> Compliance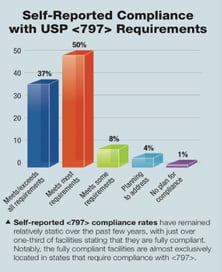 One area of the survey data highlighted USP <797> requirements for USP <797> compliance. There was a dip in compliance in 2017, but 2018 data shows facilities are back on track.
With regulation enforcement and discussion becoming more and more prevalent, many facilities are now conducting an annual gap analysis of their USP <797> compliance.
Compliance continues to be an ongoing effort, but most hospitals self-reported that they are meeting most of the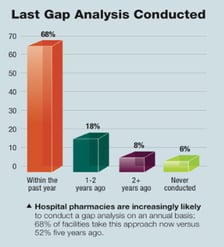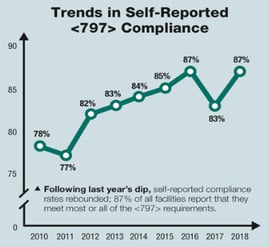 Self-reported USP <800> Compliance
Facilities are in the middle of preparing for USP <800> as the implementation date of December 2019 approaches. Over 8 out of 10 facilities surveyed prepare hazardous drugs meaning this new chapter will affect most facilities across the country. Fewer than 10% of these facilities reported that they are fully compliant with most of facilities responding they are either meeting most of USP <800> or meeting some of <800> regulation.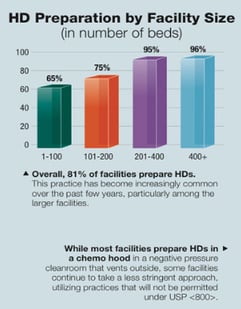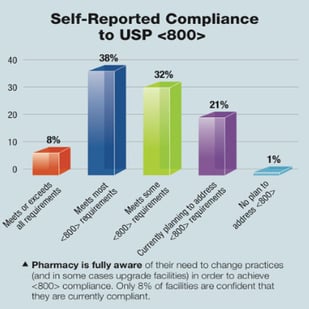 At Helmer, we receive tons of questions regarding refrigeration inside of USP <797< and USP <800> cleanrooms. If you are going through a cleanroom renovation, or buying new equipment for your cleanroom, we have many resources to help you rest assured that Helmer refrigerators can be placed inside of cleanrooms. One of those resources is a frequently asked question guide, answering many of the questions you might have about placing medical-grade refrigeration in your clean room. Click the link below to learn more.