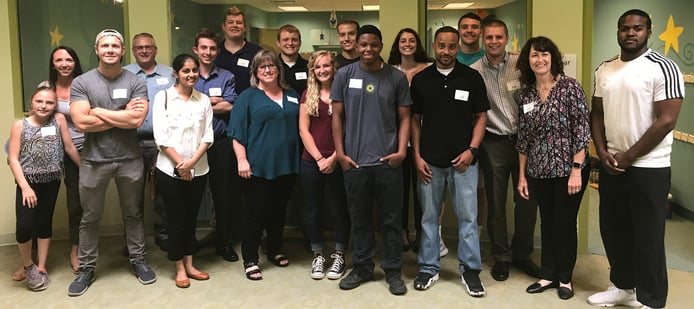 The 2017 Helmer Scientific Summer Interns recently participated in a community service event. Each year the summer interns choose an event to participate in as part of their intern experience. This year's group volunteered with Hands of Hope, an adoption and orphan care ministry. The mission of Hands of Hope is to uniquely and deeply love orphans at home and around the world.
Each month Hands of Hope holds a training and support group for foster parents. While the parents receive training for the Department of Child Services, volunteers watch over the foster children ranging from infants to 5th graders.
The Helmer interns volunteered during the foster parent training event and enjoyed the time spent with the children. "It felt good to give back," said Katie McGinnis, MarCom Intern. "I spent my time with the 5th grade group and one girl in particular. When she handed me a drawing she'd made for me at the end of the evening, it reiterated the importance and impact that can be made in a short time."
Helmer will be entering a Super Service Challenge video about the Summer Intern project in the hope that they will be able to provide more support to Hands of Hope.
If you would like to learn more about Hands of Hope and how you can become involved, please visit https://handsofhopein.org/.