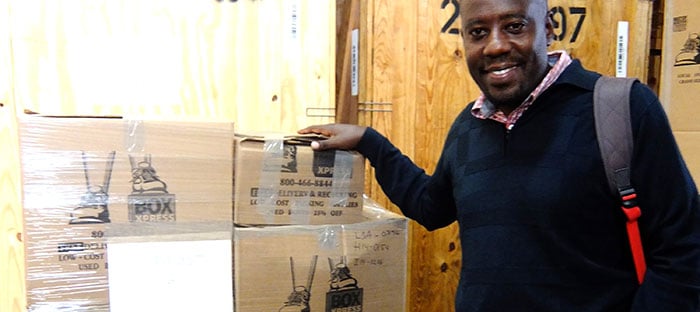 ---
Seeding Labs is an organization dedicated to unleashing the full potential of scientists in developing countries to solve challenges such as global disease, feeding growing populations, andprotecting our planet. Seeding Labs accomplishes this mission by supporting scientists through equipment donation, training, and by creating opportunities for scientists to network and collaborate with other researchers in related fields.
As part of the Seeding Labs Instrumental Access program, Helmer Scientific joined other sponsors in providing equipment to the Masinde Muliro University of Science and Technology (MMUST) in Kakamega, Kenya. Donated equipment was provided to the Department of Biological Sciences to support research related to agriculture and aquaculture. Dr. John Muoma, Senior Lecturer and Molecular Biologist at MMUST, was one of 26 faculty members that will benefit from the Seeding Labs equipment. Dr. Muoma's work focuses on determining the genetic make-up of local crops to identify variants that increase the efficiency of Kenyan farms. As part of this work, Dr. Muoma's lab developed a water hyacinth-based organic fertilizer. Not only was this organic fertilizer more effective than in-organic alternatives that had detrimental effects on the local ecosystem, but it also provided a valuable use for an abundant and invasive plant that is known for clogging hydroelectric power plants. Providing equipment to Dr. Muoma's lab is just one recent example of how Seeding Labs assists talented researchers in developing countries make discoveries that can have a global impact.
"Helmer Scientific is very proud to support Seeding Labs," stated Natasha Mazur, Director of Helmer Generosity Initiatives, "We are excited that our donated equipment is being put to good use at Masinde Muliro University. We will continue to use our resources to support like-minded and generous organizations helping those in need." Helmer Scientific is a Krypton-level supporter of Seeding Labs.
Please visit SeedingLabs.org for more information or to make a donation.