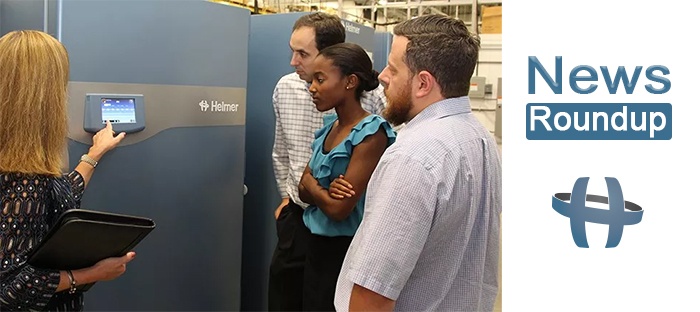 Helmer Scientific has recently been featured in Inside Indiana Business and Noblesville Magazine. Check out an array of stories about Helmer's innovations, products, and partnerships along with our generosity initiatives.
Helmer Keeps Blood Drone-Ready in Africa
Drones are delivering life-saving blood in rural areas of Rwanda, solving the "last mile" problem of getting blood where it is needed. Read about Helmer's partnership with Zipline, the Silicon Valley robotics company that delivers critical blood supplies, and watch the video to see Helmer CEO Bruce King discuss the initiative with Business of Health Reporter Kylie Veleta.
Learn more about the Zipline / Helmer Scientific partnership. Watch the video see the operation at work in Rwanda and listen to portions of an interview with Ben Greenfield, Director of Marketing and Business Development at Helmer Scientific.
Helmer Keeps It Cool in High Pressure Storage Industry
Did you know that every hospital in the U.S. and Canada—some 5,500—uses equipment manufactured at Helmer Scientific? Helmer does business in 125 countries, and 90 percent of its products are made in Noblesville, Indiana. Read the article to learn more about Helmer's point-of-use solutions for blood and medications, as well as to hear interview clips with Helmer CEO Bruce King.
Business Spotlight: Noblesville Chamber of Commerce
Helmer supports employees in their pursuit of personal generosity through serving nonprofits in the community. Read about Helmer's culture of generosity, growth, and development. Recently selected as a Top 5 place to work in Noblesville, Indiana, Helmer currently has 284 employees.