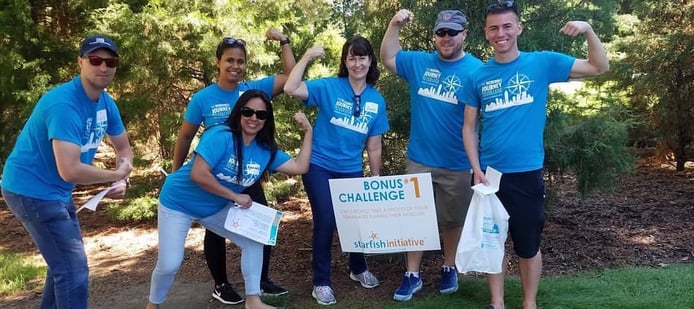 Starfish Initiative is a non-profit organization that inspires, encourages and prepares promising, economically disadvantaged students for college and career success. The program pairs economically disadvantaged high school students one-on-one with college-educated volunteer mentors. The mentor's job is to help walk their student into college.
Starfish believes that mentoring is the key to improving the educational attainment and future of today's youth. According to Starfish Initiative, 100% of Starfish Scholars who complete the 4-year program graduated from high school and 98% were accepted by colleges and universities.
The Starfish Scholarship Program is a 4-year program where scholars receive continued guidance and one-on-one support from their college-educated mentor. These mentors meet with the scholar every other week over the 4 years. The relationships serve as the cornerstone providing positive role models and a consistent source of support outside the family. Starfish mentors help prepare their students to navigate college and professional environments.
Two Helmer Scientific team members are mentors to Starfish scholars and are helping make a difference in the lives of these young, ambitious students. They, along with another team member, recently participated in Starfish Initiatives' Incredible Journey to College corporate challenge scavenger hunt.
The Incredible Journey to College event encompasses the fun, confusion and excitement of a college experience. Teams of Starfish mentors/scholars paired up with corporate representatives and went head-to-head racing around the campus of Marian University in Indianapolis, searching for items and completing challenges. The top 3 teams won scholarships for the scholars on their teams. The event raises money to fund Starfish Initiative and is a lot of fun for mentors, scholars and corporate sponsors.
For information on how you can participate with Starfish Initiatives, please visit www.starfishinitiative.org.