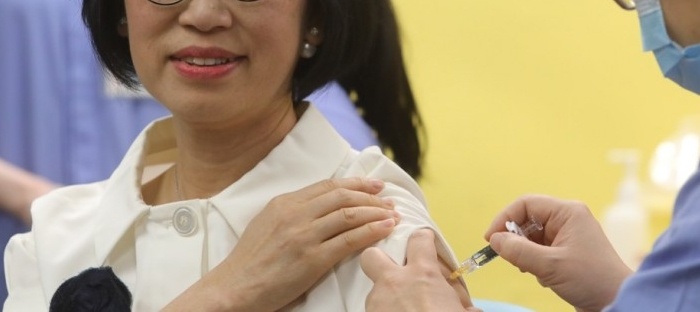 ---
Professor Sophia Chan Siu-chee stated that during the month of October, around 50,000 people received the flu vaccine, nearly 8,000 more than the number of people who received it in October of last year.

Initially, there was fear that the influenza vaccination being administered in Hong Kong was ineffective as it differed from the one recommended by the World Health Organsation (WHO). "Last month, the WHO changed its recommended vaccine type. The so-called Singapore strain of the vaccine was said to be "slightly better" than the 460,000 doses of vaccine already bought by Hong Kong (Tsang)." However, vaccination rates are on the rise.
Although the strain is different than the one WHO recommended, The Medical Association believes the vaccine should provide 70%-90% protection against the influenza virus, and that community outbreaks can be prevented with 30% of the population receiving the vaccination.
Proper storage and handling of these vaccinations plays an important role in their effectiveness against fighting influenza and protecting the community from outbreaks.
Although storing vaccines in household refrigerators or freezers is not a direct violation, it is against city guidelines. City guidelines strongly urge the use of medical-grade refrigerators and freezers for the safe storage of vaccines. Private clinics were reported to be using household refrigerators instead of medical-grade freezers to store vaccines raising a slight concern. Although this is not a direct violation, it is against city guidelines and has led to the Health Department checking in on private clinics. Officials from the Centre for Health Protection will be providing the cold storage audits.
Director of Health Dr. Constance Chan Hon-yee referenced the United States Centers for Disease Control guidelines related to vaccine storage. The CDC guidelines do not completely outlaw the use of household refrigerators and freezers for vaccine storage; however, the CDC does recommend using pharmaceutical grade refrigeration or standalone units.
"The storage of vaccines is the responsibility of medical professionals, and their standards are supervised," Chan said.
Browse our wide selection of pharmaceutical refrigerators, which are designed for vaccine storage, by following the link below.